Does your department use a networked Toshiba printer with access codes?
Windows
If you are on a Windows PC, you should see this pop-up after printing your job.  Enter the code provided by your department and your job should print successfully.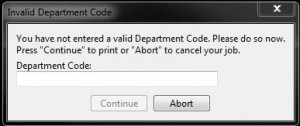 Mac
On a Mac, there is no pop-up for the department code when you click print; it appears that the job is sent, yet nothing comes out of the printer.  This often happens when you have not set the department code in the printing preferences.  To do so, you must click to see all of the printing options and choose 'Print Mode' from the drop down list.  From there, you can check the 'Department Code' box and enter your department code.  Note that you only have to do this once if you continue to use 'Last Used Settings' (the default) for future print jobs.
Help
Printing still not working as it should?  Contact your local CLAS IT support person.