The third edition of U.S. and Latin American Relations, co-authored with Mike Allison, is now available from Cambridge University Press.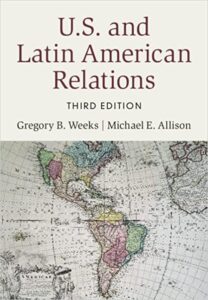 My textbook Understanding Latin American Politics is available in an open access (free) digital edition, as well as a paperback edition distributed by University of North Carolina Press.
Digital edition: https://omp.uncc.edu/library/catalog/book/7
Print edition: https://www.uncpress.org/book/9781469652245/understanding-latin-american-politics/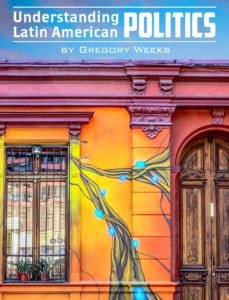 Connect with me through Academia.edu.
Click HERE for PDFs of my publications.
In 2010 I published Irresistible Forces: Latin American Migration to the United States and its Effects on the South. My co-author is my dad, John R. Weeks, Distinguished Professor Emeritus of Geography at San Diego State University.
In 2010 I co-edited The Bachelet Government: Conflict and Consensus in Post-Pinochet Chile with my friend and colleague Silvia Borzutzky.
My first book, The Military and Politics in Postauthoritarian Chile, was published in 2003. It is available at amazingly low prices at Ebay.