My textbook Understanding Latin American Politics is now available in an open access (free) digital edition, as well as a paperback edition distributed by UNC Press.
Digital edition: https://omp.uncc.edu/library/catalog/book/7
Print edition: https://www.uncpress.org/book/9781469652245/understanding-latin-american-politics/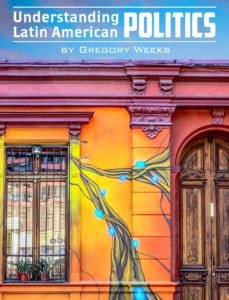 Connect with me through Academia.edu.
The second edition of U.S. and Latin American Relations, published in 2015. A third edition is in production and should be out in 2023.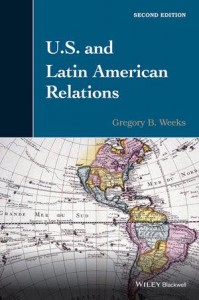 Click HERE for PDFs of my publications. Here is my paper for the 2021 SECOLAS conference.
In 2010 I published Irresistible Forces: Latin American Migration to the United States and its Effects on the South. My co-author is my dad, John R. Weeks, Distinguished Professor Emeritus of Geography at San Diego State University.
In 2010 I co-edited The Bachelet Government: Conflict and Consensus in Post-Pinochet Chile with my friend and colleague Silvia Borzutzky.
In 2008 I published a textbook, U.S. and Latin American Relations.
My first book, The Military and Politics in Postauthoritarian Chile, was published in 2003. It is available at amazingly low prices at Ebay.