Research Professor, Department of Physics and Optical Science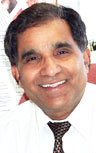 Research Area: Fiber-Optics, optical wave-guides, fiber devices and Transparent and Laser Gain Ceramics (Phys) iaggarwa@uncc.edu
Dr. Aggarwal has been selected to receive the 2011 David Richardson Medal from the Optical Society of America (OSA)
Dr. Aggarwal has recently been appointed as a Research Professor in the Department of Physics and Optical Science at the University of North Carolina at Charlotte. At UNC Charlotte his efforts will be focused on the development of novel optical wave-guide and fiber devices for passive and active mid-IR applications.
Dr. Aggarwal recently retired as Head of the Optical Materials and Devices Branch at NRL after 25 years of government service. Previously he worked at several companies including Corning and Lasertron Inc. He was a senior scientist at Corning responsible for glass and fiber research and development and did some of the pioneering work in the beginning days of fiber-optics development in the 1970's. At Lasertron he worked as a Vice President responsible for development and engineering operations of semiconductor Lasers and corresponding Electronic Devices. Dr. Aggarwal received his Master's and Ph.D. degrees from Catholic University of America.
Dr. Aggarwal together with his team at Naval Research Laboratory (NRL) pioneered the development, applications and commercialization of infrared (IR) transmitting optical materials; (i) low loss IR transmitting glass optical fibers and (ii) rugged transparent ceramic spinel windows. He directed the research programs to solve the various technical and engineering issues and successfully transitioned the enabling technologies, along with 17 patents, to the industrial sector. These materials are now commercially available and are improving the performance of existing applications as well as enabling new applications which were not previously possible. The combined market impact for these materials is estimated to be in the billions of dollars. The specific details are highlighted below:
The first company to bring this IR fiber technology to market was CorActive who licensed the IR fiber technology developed by Dr. Aggarwal and his co-workers at NRL. Several companies, including BAE Systems, Raytheon and ITT are utilizing the IR fibers in their infrared countermeasure (IRCM) systems to protect aircraft from shoulder launched IR guided missiles, called MANPADS (man-portable air defense systems). The IR fiber solution is an optical engineering success story since it enables relocation of the laser in a remote location and use of multiple jam heads with one laser, resulting in huge cost savings, enhanced agility, low weight, small size, robustness and reliability.
In addition to IRCM, there are many other applications for IR Fibers. Some examples include remote fiber based sensors using infrared spectroscopy for real-time in-situ environmental pollution monitoring and facility clean up, biomedical tissue analysis/diagnostics and laser surgery. The high brightness IR emission from their rare earth doped fibers, including mid-IR fiber lasers, will enable tailored IR sources for remote spectroscopy. These fibers also have the potential to revolutionize next generation compact fiber amplifiers and enhance telecom bandwidths. The highly non-linear chalcogenide fibers are enabling bright sources and lasers (Raman lasers, broadband supercontinuum sources, and parametric frequency shifters) in the infrared wavelengths using less than one meter length of fiber which can't be done with conventional silica fibers. These so called "active fibers" may replace existing bulky OPO and gas laser systems used for sensor systems. Dr. Aggarwal also helped develop additional IR fiber products which include hollow core photonic band gap (PBG) fibers, as well as photonic crystal fibers (PCF).
Polycrystalline ceramic magnesium aluminate i. e. spinel (MgAl2O4) is a rugged, hard and strong material, just like sapphire. It optically transmits wavelengths all the way from UV to the mid IR (0.19 – 5 µm). However, high optical quality spinel ceramic was not available prior to NRL inventions. Dr. Aggarwal at NRL pioneered the key technological developments to solve various issues relating to transparency and strength. The major application for spinel ceramic is in transparent armor. High energy laser windows, missile domes, optics for IR sensors. MER Corp. licensed the spinel technology, along with 6 patents, to manufacture spinel for commercial and military applications. Dr. Aggarwal and his co-worker Dr. Sanghera were recognized nationally. They were the recipients of the highly prestigious Federal Laboratories Consortium (FLC), National Award for Excellence in Technology Transfer in May 2008. They also received the Mid-Atlantic Regional Award for Excellence in Technology Transfer in October 2007.
Dr. Aggarwal's numerous awards include a Sigma Xi Award in 1998; several NRL Alan Berman Publication Awards; a number of Thomas Edison patent awards and many NRL outstanding performance awards.
Dr. Aggarwal, along with Dr. Sanghera, has been selected to receive the 2011 David Richardson Medal from the Optical Society of America (OSA). They are recognized "for their pioneering work leading to the development, production and commercialization of Infrared Fiber and Transparent Ceramics resulting in numerous IR products."
Dr. Aggarwal has transitioned four technologies to industry, published over 300 papers, edited 3 books and co-authored more than 70+ patents.