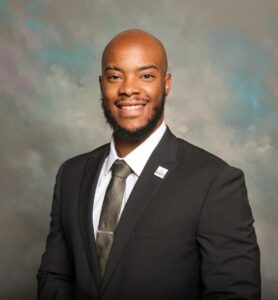 Lorenzo N. Hopper is an Assistant Professor in the Department of Public Health Sciences and former Director of the Master of Public Health program. Dr. Hopper is the Co-Director of the Community Action Research Scholars (CARS) program through the Academy for Research on Community Health, Engagement, and Services (ARCHES).
Dr. Hopper first began teaching in the Public Health Sciences Department as a part-time adjunct in 2016. He received his PhD in Maternal and Child Health from The University of North Carolina at Chapel Hill's Gilling's School of Global Public Health in 2020.
Dr. Hopper teaches both undergraduate and Master of Public Health graduate courses. Lorenzo's areas of research interest include fatherhood, men's health, and the pursuit of health equity. Special populations include children and first-generation students. 
His dissertation research explored the impacts of father engagement on early childhood obesity in a national sample of US families. Dr. Hopper established a faculty and student-led Charlotte MCH Workgroup along with Dr. Alicia Dahl. Email him for more information. Recordings from previous sessions are provided below.
Education
PhD – University of North Carolina at Chapel Hill, Maternal and Child
Health
MPH – East Carolina University, Epidemiology
B.A. – University of North Carolina at Chapel Hill, Chemistry
Teaching
HLTH 6471 – MPH Internship
HLTH 6280 – Epidemiology Capstone
HLTH 6225 – Health Education and Health Promotion
HLTH 6220 – Applied Health Behavior Change
HLTH 6211 – Evidence-Based Methods
HLTH 2101 – Healthy Lifestyles
HLTH 3104 – Research and Statistics in Health
HLTH 3106 – Determinants of Health
HAHS 1101 – Prospect for Success
Research Interests/Areas of Expertise
Maternal and Child Health: Father Engagement
Men's Health
Minority Health & Health Disparities
Student Wellness
Service
PHS Equity Task Force Committee

Founder & Faculty Advisor (First Gen Niners)
UNC Charlotte Police Advisory Committee
PHS Communications Committee
MPH & BSPH Program Committee
Honors/Awards
2022 Community Voice Award, presented by Carolina Youth Coalition

Faculty Research Grant Awardee, 2022

Delta Omega – Beta Phi Chapter Honorary Society in Public Health, 2021

Presidential Service Volunteer Award, Bronze, 2020
Selected Publications
Hopper, LN, Shanahan, M, Vines, A, Daniels, J, Bharathi, Z, Hussey, J. Fathers and child health behaviors: assessing father engagement, early childhood diet, and screen time in a national sample of US children. HPHR. 2021; 36. 
Bowling J, Hopper LN, Cantu-Backhaus Z, Williams C, Butler K, & Yount L. (2020). "A beacon of the community we stand in": Standardizing peer sex education at higher education institutions in the South. Sex Education. DOI: 10.1080/14681811.2020.1807315
Parry K, Tully KP, Hopper LN, Schildkamp, P, Labbok, M. (2018) "Evaluation of Ready,
Set, BABY: a prenatal breastfeeding education and counseling approach." Birth DOI: 10.1111/birt.12393
Hopper LN, Blackman KF, Barnes K, Page RA., Rivera AI., Gizlice Z., Carter-Edwards, L. (2017). "Seeds of HOPE: Dissemination of a Weight-Loss and Empowerment Intervention" NCMJ 78(4): 230-236
Former students/mentees – REQUEST A LETTER OF RECOMMENDATION HERE