Dr. Rosario Porras-Aguilar is an Assistant Professor at UNC Charlotte in the Department of Physics and Optical Science since 2017. Dr. Porras-Aguilar is the Principal Investigator of the Active and Reconfigurable Optics Laboratory. Her research interest is in developing microscopy techniques to obtain quantitative data in three dimensions with applications in microbiology and industry. She was recently awarded an NSF-CAREER award of $500,000 for "Smart Imaging and Metrology enabled by Liquid Crystals" and the Cottrell Scholar Award of $100,000 for "Label-Free Reconfigurable Microscopy with High Specificity." She is co-PI on several research projects through the Center for Freeform Optics and the Center for Precision Metrology.
Graduate Students

Ana Hiza Ramirez Andrade is a third-year Ph.D. student in the Department of Optical Science and Engineering at UNC Charlotte. Ana holds a master's degree in electronics from the National Institute of Astrophysics, Optics, and Electronics in Puebla, Mexico. Her main research interest focuses on optical metrology using structured light illumination systems as well as Machine Learning and Data Science techniques.
Ana was recently nominated to be part of The National Society of Leadership and Success UNCC chapter, a recognition given to only 20% of UNCC students.

Subhasree Srenevas
Ph.D. student, Optical Science, and Engineering, 2017 – Present
BTech, Electronics and Communication Engineering, 2013 – 2017
Originally from India, I moved to the US in 2017 to pursue my academic interests in optical sciences as a doctoral student at UNCC. As an undergraduate engineer, I worked on IoT-based projects, and that is where my interest in exploring optics-based technologies began. My previous research experiences included developing metrological solutions for characterizing surfaces for diffusion bonding and additive manufacturing applications. In the Active Optics lab, my research is focused on developing an efficient quantitative phase imaging system using azobenzene liquid crystals for biological specimens. I aspire to further my research interests in academia or R&D. I spend my time outside of my work staying active in my book club, teaching myself to paint and meditate.
Undergraduate Students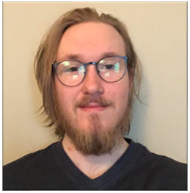 Brandon Norton will be receiving a BS in physics in the spring of 2021 with minors in mathematics and artificial intelligence. Brandon will be joining the graduate program of Physics and Optical Sciences to pursue an MS in applied physics in the fall of 2021. Currently, Brandon is working on the optical metrology of freeform objects.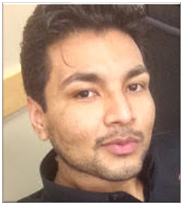 Erick F. Matilde is currently of Senior status as an Electrical Engineering undergraduate student at the University of North Carolina at Charlotte; he is also part of the Power and Energy Systems Concentration program provided by the William States Lee College of Engineering. To pursue his interests in optical sciences, he works towards a major in Physics from the Department of Physics and Optical Sciences. In the past, he has explored applications related to machine learning. He has worked with a team of fellow undergraduate students who designed and built a Convolutional Neural Network to detect Alzheimer's disease. He is part of Dr. Porras-Aguilar's research team as an Undergraduate Research Assistant, in which he will be focusing on modeling a phase imaging system.