Receptivity, Integration, and Settlement In New Gateways
(RISING) Research group
Who we are and what we do …
We are a consortium of community-engaged scholars, practitioners and advocates working with immigrants, refugees, and asylees and their families in new gateways
We share trans-disciplinary and trans-sector interests in the dynamics of migration and the complexities of settlement, receptivity, inclusion and integration at the local level
We commit to applied, participatory and action-based research
We present results and information in diverse forms to a wide variety of audiences
We develop and implement interventions that flow from the voice of the communities with whom we work and the research we have conducted
We mentor each other in our respective areas of expertise
We educate students from introductory undergraduate to advanced doctoral levels in community-engaged scholarship
We collaborate with partners on innovative projects that enhance the lives of immigrants in new gateway communities.
This we believe:
Inclusion means providing equal rights and opportunities to all people, regardless of gender, sexual orientation, nationality, immigration status, (dis)abilities, age, religion, and other social group. Inclusion goes beyond 'having a seat at the table' or being 'tolerated' to being considered as full, contributing members of society with an equal voice.
Integration is a two-way, multi-dimensional incorporation of immigrants, refugees, or asylees into the socio-cultural, political, and economic fabric of US society.
"Community receptivity expresses the degree of openness within a place to someone or something new. Receptivity is shaped by multiple components, institutions, and structures related to a community's political, economic, social, and cultural spheres. Receptivity also encapsulates how immigrants perceive their reception in their new home" (McDaniel, 2013, p. iii).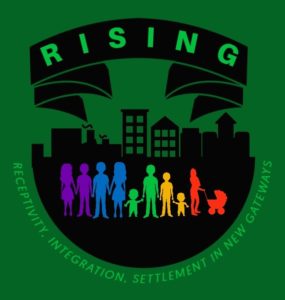 The RISING logo was created by Pedro Pérez, a young artist living in Charlotte and a co-researcher in the Youth ADAPT NC participatory action research project. We thank him for his contributions.
My name is Pedro Pérez. I am a Mexican artist based in North Carolina. My early life was conflicted with the struggle to combine two different cultures and languages. This confusion caused a sense of not belonging to either culture and the lack of identity caused an introvert behavior to take over. The only way to find peace with one's self is through art, and I have been practicing these craft ever since. School and practice has allowed me to give visual form to my ideas and ideas of others through graphic design or through my brush. In other words, my life is a composition of sound and color.