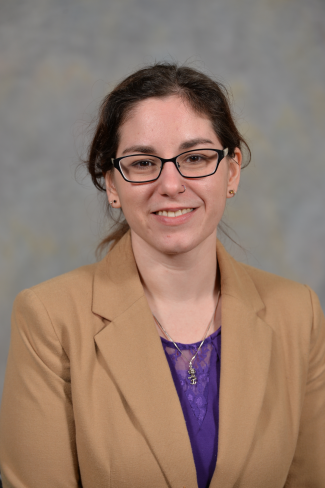 Dr. Sam Cacace is an Assistant Professor in Public Health Sciences. She specializes in military and veteran health and wellness from an ecological and psychosocial perspective, as well as advanced analytics and measurement, such as psychometrics, factor analysis, structural equation modeling, latent class and profile analysis, and other latent variable approaches. Dr. Cacace served as a postdoctoral research scholar, and then research scholar at NC State University's Center for Family and Community Engagement, where she forged connections with campus military and veteran services, Team Red White and Blue, the Consortium for Health and Military Performance, NCServes, NC DHHS, and RTI International. Dr. Cacace's areas of interest are in military health and wellness, measurement and survey design, and latent variable modeling. Currently, Dr. Cacace is examining stigma against military service as a barrier to help-seeking and wellness in the military and veteran community, means for improving cultural competency in health and mental health care workers and clinicians, and suicide prevention interventions and measurement tools.
Education
Ph.D. – Washington State University, 2018, Experimental Psychology
M.A. – North Carolina Central University, 2012, General Psychology
B.A. – North Carolina State University, 2010, Psychology & Sociology
A.A. – Wake Technical Community College, 2008
Teaching
Organization Development and Behavior (HSMT 3204)
Introduction to Health Services Research (HSRD 8201)
Healthcare Data Analysis (HCIP 6102)
Research Interests/Areas of Expertise
Military and veteran health
Survey methodology
Dyadic research methods
Measurement invariance
Latent variable modeling
Structural equation modeling (SEM)
Item response theory (IRT)
Differential item functioning (DIF)
Latent class analysis
Multi-level modeling
Intensive longitudinal analysis
Awards & Honors
2019 APA Division 19 Challenge Coin Awardee
Community Involvement
Stress, Health, and Aging Research Program (SHARP)
Selected Publications
Cramer, R.J., Montanaro, E., VanSickle, M., Cacace S., Zabelski, S., Smith, E.L., Franks, M., Grover, S., & Cunningham, C.A. (In press). A psychometric assessment of the Military Suicide Attitudes Questionnaire (MSAQ). Psychiatry Research.
Cramer, R.J., Cacace, S.C., Sorby, M., Adrian, M.E., Kehn, A., & Wilsey, C.N. (In press). A psychometric investigation of the Hate-Motivated Behavior Checklist. Journal of Interpersonal Violence.
Cacace, S., Simons-Rudolph, J., & Dubljevic, V. (2022). Morality, impulsivity, and psychopathic tendencies: An empirical study. Frontiers in Psychology. https://doi.org/10.3389/fpsyg.2022.834734
Cacace, S., Smith, E., Cramer, R., Meca, A., & Desmarais, S.L. (2021). Military self-stigma as a mediator of the link between military identity and suicide risk. Military Psychology. In press. https://doi.org/10.1080/08995605.2021.1994329
Cacace, S., Smith, E., Desmarais, S.L., & Alders, E. (2021). Locale matters: Regional needs of U.S. military service members and veterans. Military Behavioral Health. In press. http://dx.doi.org/10.1080/21635781.2021.1990813
Dubljevic, V., Cacace, S., & Desmarais, S.L. (2021). Surveying ethics: A measurement model of preference for precepts implied in moral theory (PPIMT). Review of Philosophy and Psychology. In press. https://doi.org/10.1007/s13164-021-00530-z
Cunningham, C., Cramer, R.J., Cacace, S., Franks, M., & Demarais, S.L. (2020). The Coping Self-Efficacy Scale: Psychometric properties in an outpatient sample of active duty military personnel. Military Psychology, 32(3), 261-727.
Cacace, S. (2020). "Be all that you can be": Building a cohesive model for military self-identity in early career and veteran U.S. military service members. Journal of Behavioral and Social Sciences, 7(1), 12-22.