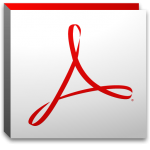 Adobe Acrobat is a family of application software and web services developed by Adobe Systems to view, create, manipulate, print and manage files in Portable Document Format (PDF).
Acrobat Pro can create, edit, convert, digitally sign, encrypt, export and publish PDF files. Acrobat.com complements the family with a variety of enterprise content management and file hosting services.
Acrobat Pro is available to UNCC by request as part of the Adobe Creative Suite 6 Design and Web Premium package or separately.