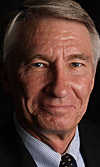 Education
B.S., University of Wisconsin Oshkosh, 1973
M.A. Webster University, 1977
Ph.D, Ohio University, 1999
Areas of Interest
Public Relations
International Public Relations
Employee Communication
Corporate Social Responsibility, & Media Relations.
Bio
Dr. Freitag teaches graduate and undergraduate courses in public relations, and has held this position since August 1998. Specific undergraduate courses taught include Fundamentals of Public Relations, Public Relations Writing, International Public Relations, Research Methods, Event Planning, and News Writing. Graduate courses taught include Communication Campaign Management, Internationals Public Relations, and Media Relations. He also advises the university's chapter of the Public Relations Student Society of America. A U.S. Air Force veteran, Freitag retired in 1995 as a lieutenant colonel after 22 1/2 years of service. During that time, he spent nearly 10 years in Europe and two years in Hawaii. His work has been published inJournalism and Mass Communication Quarterly, Journal of Public Relations Research, Journal of Communication Management, Public Relations Quarterly, Newspaper Research Journal, Airman, and Asia-Pacific Defense Forum. He has frequently presented papers and served on panels for the conventions of the Association for Education in Journalism and Mass Communication, the Public Relations Society of America, and the Southern States Communication Association. He is frequently the subject of print and broadcast media interviews because of his background in NATO, defense issues, crisis management, and international public relations. Freitag has earned formal, professional accreditation in public relations practice through the Public Relations Society of America.
Research Projects
Employee Benefits Communication
Corporate Social Responsibility
Teaching Courses
Public Relations (Principles, Writing, Campaigns)
CSR
Crisis Communication
Research Methods
Communication Campaign Management
International Public Relations