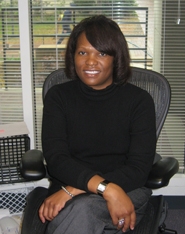 Dr. Debra C. Smith is Associate Professor of Africana Studies.  Her research and teaching interest include e-Black Studies, African-Americans in communication and popular culture, minority images in the media, contemporary African-American folklore and developing teaching strategies that incorporate popular culture, language and power.
Education:
Ph.D., University North Carolina-Greensboro
M.A., University North Carolina-Charlotte
B.A., University North Carolina-Chapel Hill
Areas of Interest:
African-Americans in Communication and Popular Culture
Minority Images in Media
African-American Contemporary Folklore
Teaching Strategies utilizing Popular Culture
Rap Music, Language and Power
Media Literacy
Books:
The Words Unspoken: The Hidden Power of Language, Carolina Academic Press, 2008, 142pp (ISBN-10: 1-59460-174-7. ISBN-13: 978-1-59460-174-3)
Recent Publications:
Orbe, Mark, Debra C. Smith, Christopher R. Groscurth & Rex L. Crawley.  "Exhaling So That We Can Catch Our Breath and Sing:  Reflections on Issues Inherent in Publishing Race-related Communication Research."  Southern Journal of Communication 75 (2); (2010) 184 – 194.
"Critiquing Reality-Based Televisual Black Fatherhood:  A Critical Analysis of Run's House and Snoop Dogg's Fatherhood."  Critical Studies in Media Communications.  25(4): (2008) 393-412.
"Of Brutal Necessity:  Rap Music and Black Language. "  Making Connections:  Journal for Teachers of Cultural Diversity, Vol, 10, No. 3. (2008) 41-62.
Smith, Robert and Debra C. Smith (2009)  "The Wire:  Media Placement and Postindustrial  Landscapes" (pp. 73-93).  In Zachery Williams (ed) Africana Cultures and Policy Studies: Scholarship and the Transformation of Public Policy.  New York:  Palgrave Macmillan (Series Editors:  Manning Marable and Peniel Joseph).
"Reading, Writing and Watching TV:  The Pedagogy of the Pre-Schooler:  A Case Study in Teaching Media Literacy" (2009): pp 173-189.  In  Marcus Leaning (ed) Issues in Information and Media Literacy: Education, Practice and Pedagogy.    Santa Rosa:  Informing Science Press.
"Popularizing Folklore in the Age of Text-messaging Millenials." Folklore Journal, Volume 118, Issue 1, April 2007, Routledge Publishers, (2007) pp 91-99.
"Cartoon Culture: How Maya and Miguel Exceed Beyond the 1990 Children's Television Act. "Wilson, Leslie (ed) Readings in Popular Culture. Press Americana: The Institute for the Study of Popular Culture, November 2006, pp 105-112.
Current Projects:
Black Teachers' Use of Media During the Civil Rights Movement (Ethnography)
e-Black Studies Collaborative Research Network
Courses Taught:
AFRS 2105 – Black Images in the Media
AFRS 3050 – Blacks in Communication and Popular Culture
AFRS 3050 – Africana Folklore
AFRS 1100 – Introduction to Africana Studies
AFRS 2203 –  African American Culture
LBST 1102 – Film and Society ("The Wire")
LBST 2102 – Minorities in the Media