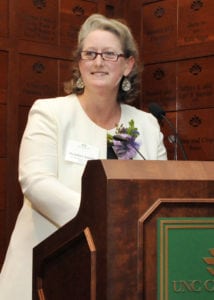 Teaching and Research Interests
Urban & Social Geography

Immigrant Settlement & Adjustment

Globalizing Cities & New Gateways

Urban Revitalization & Gentrification

Socio-spatial Polarization & Inequity

Community-Engaged Scholarship 
Education
Ph.D. (2000) Geography, University of British Columbia CANADA
M.A. (1993) Geography, Queen's University at Kingston CANADA
B.A. Highest Honors (1989) Geography, University of North Carolina at Chapel Hill USA
Junior Year Abroad (1987) Bristol University UNITED KINGDOM
Profile
As an Urban Social Geographer my primary research and teaching interests revolve around the intersection of transitioning societies and restructuring cities. In addition to teaching courses such as Introduction to Urban Studies, Urban Social Geography, The Restructuring City, Cities and Immigrants, Qualitative Methods in Geography, and the Geography Ph.D. Professional Development Seminar, I have an active research agenda in the areas of immigrant settlement and adjustment and urban revitalization and gentrification.
My immigration-based research has focused on: 1) the dynamics of concentrated poverty and immigrant experience at the neighborhood scale in major Canadian cities and 2) explorations of the causes, processes, and implications of Hispanic "hyper-growth" in Charlotte, NC, and the broader US South. My Canadian work (much of it affiliated with my role as Senior Researcher with the Metropolis Project's Vancouver Centre of Excellence for Research on Immigration and Diversity) has been published in outlets such as Urban Studies, International Journal of Canadian Studies, and the Annals of the Association of American Geographers while my US-based work on Latino migration can be found in journals such as Southeastern Geographer, Geographical Review, Implementation Science and Journal of the American Board of Family Medicine as well as in edited volumes such as Suburban Immigrant Gateways: Immigration and Incorporation in New U.S. Metropolitan Destinations (Brookings, 2008), Taking Local Control: Immigration Policy Activism in U.S. Cities and States (Stanford, 2010 ) Immigrant Geographies of North American Cities (Oxford, 2011). With Owen J. Furuseth, I am co-editor of Latinos in the New South: Transformations of Place (Ashgate, 2006). I have recently begun research on the invisible migration and settlement experiences of post-1990 Canadian immigrants in the United States. My revitalization and gentrification work has focused on processes of socio-spatial polarization in Vancouver's Downtown Eastside (Tijdschrift voor Economische en Sociale Geografie) and the unusual trajectory of corporate-led gentrification in Charlotte's Fourth Ward and central city core. In collaboration with Dr. Bill Graves, this work has been published in Southeastern Geographer and Journal of Urban Affairs and forms the springboard upon which our co-edited book Charlotte NC: The Global Evolution of a New South City (Georgia, 2010) was based.
In addition to teaching and research, I currently serve as the Interim Chair of the Department of Geography & Earth Sciences. Previous service includes Director Ph.D. in Geography Program and Director of the Interdisciplinary Urban Studies Minor. Beyond my department, I have served as a Faculty Research Associate with UNC Charlotte's Urban Institute and since 2016 have served as Faculty Fellow for the Levine Scholars Program where I support civic engagement, undergraduate research, and education abroad.
Cross-sector collaboration and sustained partnership building are hallmarks of my engaged research approach. With the Levine Museum of the New South I provided development and evaluation expertise to their Speaking of Change, Courage in the City, Latino New South, and !NUEVOlution! projects.  In 2005, I worked with health care sector, non-profit, and research colleagues to co-found the  Mecklenburg Area Partnership for Primary Care Research (MAPPR), a trans-disciplinary research network with a commitment to community-based participatory research (CBPR). MAPPR research yielded interventions eliminating barriers to primary care access for under-served populations and seeks to improve overall community health and well-being. MAPPR's work received support from agencies such as the Charlotte Research Institute, The Robert Wood Johnson Foundation, and the National Institutes of Health.  
In 2015, I co-founded the Receptivity, Integration and Settlement in New Gateways (RISING) Research Group. RISING is a growing consortium of community-engaged scholars, practitioners, and advocates working with immigrants, refugees, asylees, and their families in Charlotte, NC and other non-traditional immigrant destinations across the US South. RISING members conduct applied research that seeks to measurably enhance the lives of these vulnerable populations and the broader communities into which they settle. Please reach out if you are interested in joining us! 
More recently, I worked in partnership with Drs. Beth Whitaker and Lan Kalano to launch the Migration Research Network (MRN) at UNC Charlotte.  MRN brings together scholars across campus who study migration from multiple disciplinary perspectives. Members of the network have regional expertise in Latin America, Europe, Africa, the Middle East, Southeast Asia, and Oceania. They work with local, national, and international organizations and are committed to policy-relevant engaged scholarship. The Migration Research Network is part of a larger cluster in Migration and Diaspora Studies that is recognized as a research area of focus and distinction at UNC Charlotte. 
In recognition of the manner in which my teaching, research, and service embody the University's commitment to civic involvement and strengthen the relationship between UNC Charlotte and the larger community, I was awarded the 2014 UNC Charlotte Provost's Faculty Award for Community Engagement. Graduate students are integral to the success and rigor of all my teaching, research, and outreach endeavors and I was deeply honored to be the recipient of the 2017 Harshini de Silva Graduate Mentoring Award. I am also the recipient of the American Association of Geographer's Ethnic Geography Specialty Group's 2019 Distinguished Scholar Award and in 2022 received the Susan W. Hardwick Excellence in Mentoring Award from the American Association of Geographers (AAG).