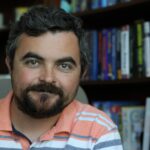 Dr. Thomas (Cliff) Hutchens is a Research Assistant Professor in the Department of Physics & Optical Science, University of North Carolina at Charlotte. He co-leads the research activities of the Optical Structured Surfaces Laboratory with Dr. Ishwar D. Aggarwal, and collaborates with the Biomedical Optics Laboratory with Dr. Nathaniel M. Fried. He also aids in research and development for Gamdan Optics, Inc. and IRflex Corp. He has strong collaboration with ongoing research efforts of the Naval Surface Warfare Center at Dahlgren, the Naval Research Laboratory, and the Office of Naval Research.
Dr. Hutchens joined the Department in 2016, first as a postdoctoral fellow in the Biomedical Optics Laboratory, then continuing in 2017 joined the Optical Structured Surfaces Laboratory. His previous experience includes a Product Development Engineer position at Opto-Alignment Technology, and before that a consultant for Medtronic Minimally Invasive Therapies Group, formally Covidien Group. He received his Doctorate in 2013, from the Optical Science and Engineering program, and his Bachelors in 2008 in Electrical Engineering and Physics at the University of North Carolina at Charlotte.
His research interests are in high energy lasers particularly for defense or therapeutics for surgeries in ophthalmology, urology, and cardiology. Using multi-disciplinary engineering design and experience he has developed many novel devices and methods for: fiber optics, beam shaping, spectroscopy, photo-lithographic fabrication, plasma etching, and anti-reflective treatments for windows and lenses. He is currently conducting research in structured optical surfaces for applications in the ultraviolet to mid-wave infrared, and laser-induced damage on optics.
He is a Principal Investigator or Co-PI on $2.5M+ worth of grants and programs, $1M+ in equipment grants, as well as two Small Business Innovation Research (SBIR) Phase-II projects. He has more than 40 published papers in scientific journals and conference proceedings, 2 patents, and 2 patent applications.