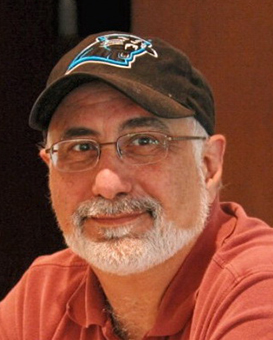 PROFILE:
Jonathan Marks is Professor of Anthropology at the University of North Carolina at Charlotte, where he has taught since the beginning of the present millennium, after brief stretches at Yale and Berkeley.  His primary training is in biological anthropology and genetics, but his interests are broad, and he has published widely across the sciences and humanities on the general topics of human origins and human diversity.  In 2006 he was elected a Fellow of the American Association for the Advancement of Science.  In 2012 he was awarded the First Citizen's Bank Scholar's Medal from UNC Charlotte.  In recent years he has been a Visiting Research Fellow at the ESRC Genomics Forum in Edinburgh, at the Max Planck Institute for the History of Science in Berlin, and a Templeton Fellow at the Institute for Advanced Study at Notre Dame. Although he has written books called What it Means to be 98% Chimpanzee and Why I am Not a Scientist, he would like it to be known, for the record, that he is about 98% scientist, and not a chimpanzee.
EDUCATION:
Ph.D., Anthropology, University of Arizona, 1984
M.A., Anthropology, The University of Arizona, 1979
M.S., Genetics, The University of Arizona, 1977
B.A., Natural Science, The Johns Hopkins University, 1975
TEACHING:
Biological anthropology
Human variation
Human origins
Science studies
RESEARCH INTERESTS/AREAS OF EXPERTICE:
Human evolution
Critical, historical, and social studies of human genetics, genomics, evolution, and variation
Anthropology of science
General biological anthropology
General anthropology
AWARDS/HONORS/GRANTS:
W.W. Howells Book Prize, Biological Anthropology Section of the American Anthropological Association, 2003.
J. I. Staley Prize, School for Advanced Research, 2009 (for What It Means to be 98% Chimpanzee, University of California Press, 2002)
First Citizens Bank Scholars Medal, UNCC, 2011-2012.
General Anthropology Division Prize for Exemplary Cross-Field Scholarship, 2012.
Templeton Fellow, Notre Dame Institute for Advanced Study, 2013-2014.
Recipient of grant to establish The Spinoza Fund at UNCC, 2014.
SELECT PUBLICATIONS:
Marks, J.
2017 Is Science Racist?  Cambridge, UK: Polity Press.
Marks, J.
2015 Tales of the ex-Apes: How We Think about Human Evolution.  Berkeley, CA: University of California Press.
Marks, J.
2013 The nature/culture of genetic facts.  Annual Review of Anthropology, 42:247–267.
Kuper, A., and Marks, J.
2011 Anthropologists unite! Nature, 470:166-168.