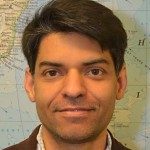 Overview
José Manuel Batista is an Associate Professor of Spanish in the Department of Languages and Culture Studies at UNC Charlotte. He earned a PhD in Romance Languages from UGA in 2003.  His research interests include Spanish Caribbean literature and culture, and Latin American poetry.  His most recent publications have appeared in The Latin Americanist and Caribe. Currently, Dr. Batista is exploring the notion of other in classic and contemporary Dominican fiction and poetry.
Educational Background
Ph.D. 2003 – University of Georgia at Athens
M.A. 1998 – Spanish Literature
B.A. 1994 – Manhattan College Riverdale New York
Research Interests
Dominican Studies
Afro Hispanic Studies
Spanish American Poetry
Spanish Caribbean Literature and Culture
Teaching Areas
Spanish American Essay, Fiction, Poetry and Theatre
Afro Hispanic Literature and Culture
Latin American Thought
Latin American Baroque
Select Courses
SPAN 3208: Introduction to Literary Analysis
SPAN 3212: Introduction to Spanish American Literature
SPAN 4210: Studies in Spanish American Poetry
SPAN 4217: Topics in Hispanic Culture and Civilization
Select Professional Affiliations
College Language Association
Southeastern Council of Latin American Studies
Afro Latin American Research Association
Selected Publications
"The Bigoted Education of a Dominican Young Man or the Narrator-Protagonist of El masacre se pasa a pie as Dilettante" in Postcript. Vol. 33, no. 1, 2017, http://pacpostscript.org/current-issue/postscript-33-1/ .  Accessed 19 March 2017.
"Parody, Ritual and Counter-Conquest in Felix Darío Mendoza's La Hispaniola: El reino del zombí" in The Latin Americanist.  Vol. 61, no. 1, 2017,  lhttp://onlinelibrary.wiley.com/doi/10.1111/tla.12100/full . Accessed 17 May 2017.
Lamouth, Juan Sanchez. "Choral Salute to the Poet Leopold Senghor" ("Saludo conjunto al poeta Leopoldo Sedar Senghor"). Tran. José Manuel Batista. The Black Scholar 45.2 (2015).