Department of Mathematics and Statistics
University of North Carolina Charlotte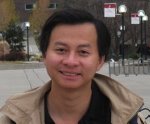 My research focuses on the area of Inverse Problems for Partial Differential Equations.
The main question in the area of Inverse Problems I am studying is how to reconstruct some coefficients or source terms of partial differential equations from the information of the solutions to those equations. These data are measured far away from regions under consideration. Since the solutions of Inverse Problems represent the physical parameters of the media occupied in those regions, Inverse Problems serve crucial roles of identifying or detecting hidden objects such as malignant tumors inside living tissues, explosive-like objects buried under the ground, etc.
The list of inverse problems I have studied involves
scattering inverse problems in the frequency domain with and without the phase information;
coefficient inverse problems from back scattering data in the time domain;
coefficient inverse problems for parabolic equations;
X-ray tomography with incomplete data;
the inverse source problem for full radiative transfer equation with incomplete data;
the linearized kinematic inverse problem;
an inverse source problem for elliptic equations,
inverse source problems for hyperbolic equations
inverse source problems for linear and nonlinear parabolic equations.
Besides Inverse Problems, I am interested in the areas of nonlinear analysis and singular nonlinear Partial Differential Equations.
I am a co-organizer of the Computational and applied Mathematics Seminar.
Employments
Ecole Normale Superieure Paris, France, 2011-2013.
Ecole Polytechnique Federale de Lausanne, Switzerland, 2013-2015.
University of North Carolina Charlotte, USA, 2015-present.
Ph.D. Student(s)
Qitong Li (2019);
Thuy Le.
Ray Abney.
Suman Neupane.
Undergraduate Student(s)
Drusti Patel.
William Powell.
Alexandria Traynham.
Sarah Zing.