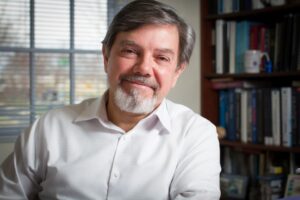 Dr. Menelaos K. Poutous is an Associate Professor of Interdisciplinary Optics in the Department of Physics & Optical Science, University of North Carolina at Charlotte. He leads the research activities of the Optical Micro-Structured Interfaces Laboratory.
Dr. Poutous joined the Department in 2008, first as the Senior Scientist of the Microphotonics Laboratory (led by Prof. E. Johnson), at the Center for Opto-electronics and Optical Communications, and then as an Assistant Research Professor in 2011. He co-founded the Optical Structured Surfaces Lab with Prof. Aggarwal in 2013. His previous experience includes a Principal Development Engineer position at Digital Optics Corporation, and before that a Lecturer's position with the Dept. of Physics at Emory University, in Atlanta, GA. He received his Doctorate in 1996, from the School of Physics at the Georgia Institute of Technology, Atlanta, GA.
His research interests are in spectroscopy, diffractive micro-optical elements, photo-lithographic fabrication processes applied to wafer-scale micro-optics, applications of micro-optics in laser cavities and devices and, artificial optical surfaces and coatings. He is currently conducting research in structured optical surfaces for applications in the near-, mid-, and long-wave infrared and, laser-induced damage on optics.
He is a Senior Member of the International Society for Optics and Photonics (SPIE). He has more than 95 published papers in scientific journals and conference proceedings.