Oscar de la Torre is Associate Professor of Africana Studies at UNC Charlotte. He obtained a PhD in History at the University of Pittsburgh in 2011, and a Post-Doctoral Fellowship at Yale University's Gilder-Lehrman Center for the Study of Slavery, Resistance, and Abolition, in 2014.
He investigates slavery and the post-emancipation period in Brazil, Cuba, and the USA, with a special focus on the connections between environment, labor, and identity. He is also interested in the history of Amazonia; in the oral history of slavery; in present-day Black peasant movements across the Americas; and in the comparative analysis of race relations in Latin America and the U.S.
De la Torre is the author of The People of the River (UNC Press, 2018), a social and environmental history of black communities in Amazonia that won the 2019 Outstanding First Book Award of ASWAD, the Association for the Study of the Worldwide African Diaspora, the 2020 Best Book on Amazonian Studies Prize from LASA's Amazonia Section, and an Honorary Mention from the Brazilian Studies Association. He has also co-edited special issues at Boletín Americanista on post-emancipation societies, and at Ofo: Journal of Transatlantic Studies on community engagement in the African Diaspora. He has served as a book and article reviewer for Hispanic American Historical Review, The Americas, The Journal of African American Studies, Latin American Research Review, and many others. Dr. De la Torre remains engaged in a permanent dialogue with scholars and activists from the U.S., Brazil, Cuba, and Europe, and enjoys surprising the students with the unexpected features of race relations in Latin America.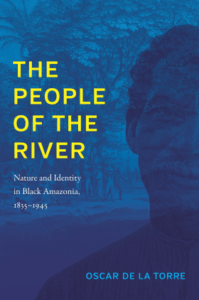 ASWAD's inaugural Outstanding First Book Prize, 2019.
LASA's Best Book on Amazonian Studies, 2020.
BRASA's Honorary Mention, Roberto Reis Book Award, 2019.
Buy it at UNC Press, Amazon, or Barnes and Noble
My current research is a study of the coexistence of inter-racial experiences and racist ideas in Matanzas (Cuba) in the realms of labor, leisure, and disease between 1833 and 1898.
Fields of Expertise:
African Diaspora in Latin America (slavery; maroons; post-emancipation period; oral history; death and disease); History of Brazil, Amazonia, and Cuba (19th and 20th century); Environmental Studies (commodity history, labor and environment); Atlantic World History (slavery, revolution).
Recent Publications:
Books
The People of the River: Identity and Environment in Black Amazonia, 1835-1945. Chapel Hill, NC: University of North Carolina Press, 2018.
Winner of 2019 Outstanding First Book Prize by ASWAD.
Edited Issues in Peer-Reviewed Journals
With Laviña, Javier. "La Post-Emancipación en el Mundo Atlántico: Síntesis y Nuevas Perspectivas de Análisis," Boletín Americanista (forthcoming).
With Ogundiran, Akinwumi. "Community Engagement and Citizen Empowerment in Africa and the African Diaspora," Ofo: Journal of Transatlantic Studies, nos. 1 & 2 (June/December 2013).
Peer-Reviewed Articles 
"Places of Memory and Time Slips: Narratives of the 'Good Master' and the History of Brazilian Slavery," Oral History Review 44, Issue 2, September 2017, 237–259.  
"Los Ambiguos Efectos de la Fluidez y la Contingencia: La Post-emancipación en el Brasil Frontera (Amazonía, 1888-1950)" in "La Postemancipación en las Américas: Síntesis y Nuevas Perspectivas de Análisis", ed. Oscar de la Torre and Javier Laviña, Boletín Americanista 68 (2014), 101-120.
""Are They Really Quilombos?" Black Peasants, Politics, and the Meaning of Quilombo in Present-day Brazil," Ofo: Journal of Trans-Atlantic Studies 3, nos. 1 & 2 (June/December 2013), 101-122.
""The Land is Ours and We Are Free to Do All that We Want": Quilombos and Black Protest in Amazonia, Brazil, 1917-1929," The Latin Americanist 56, no. 4 (2012), 33-56.
"O Carimbó e a História Social da Grande Vigia, Pará, 1900-1950," Revista Estudos Amazônicos IV, no. 2 (Belém, Brazil), 2010, 113-150.
"Latinoamericanos en la Zona Bastarda: influencia latinoamericana en la cultura y la política barcelonesas, 1980-2005", in Osamayor 17 [Pittsburgh-PA], 2006, pp. 81-95.
Book Chapters
With Paulo Cordeiro, "Mundos Sociais em Movimento: As Letras do Carimbó na Vigia," in Paulo Cordeiro, O Carimbó na Vigia (Vigia – PA, Brazil: Edição do Autor, 2010), 128-158.
Book Reviews
Review of Frontiers of Citizenship: A Black and Indigenous History of Postcolonial Brazil by Yuko Miki, The Americas 76 (4), 720-721.
Review of Landscapes of Freedom: Building a Postemancipation Society in the Rainforests of Western Colombia by Claudia Leal, Hispanic American Historical Review 99 (3), 566-568.
Review of An African American and Latinx History of the United States, by Paul Ortiz, Journal of African American History 104 (4), 719-721.
Review of Matthias Röhrig Assunção, De caboclos a bem-te-vis. Formação do campesinato numa sociedade escravista: Maranhão 1800-1850 (São Paulo: Annablume, 2015). Bulletin of Latin American Research 37, no. 3 (2018), 370-372.
"Crossroads and Transformations: New Scholarship on Abolition and the Post-Emancipation Period in Brazil," bibliographic essay about Celso Castilho, Slave Emancipation and Transformations in Brazilian Political Citizenship (University of Pittsburgh Press, 2016), and Walter Fraga, Crossroads of Freedom: Slaves and Freed People in Bahia, Brazil, 1870-1910 (Duke University Press, 2016), Estudios Interdisciplinarios de América Latina y el Caribe 28, no.2 (2017), 136-138.
Review of Peter M. Beattie, Punishment in Paradise: Race, Slavery, Human Rights, and a Nineteenth-Century Brazilian Penal Colony (Durham, NC: Duke University Press, 2015), Canadian Journal of History 52, no. 1 (2017), 168-170.
Review of Camilia Cowling, Conceiving Freedom: Women of Color, Gender, and the Abolition of Slavery in Havana and Rio de Janeiro (Chapel Hill: UNC Press, 2013), Afro-Ásia 51 (2016), 283-286.
Review of Tâmis Parron, A Política da Escravidão no Império do Brasil, 1826-1865 (Rio de Janeiro: Civilização Brasileira, 2011), Hispanic American Historical Review 93 (2013), 125-127.
Review of Timothy James Lockley, Maroon Communities in South Carolina: A Documentary Record (Columbia, SC: University of South Carolina Press, 2009). Florida Historical Quarterly 88, no.2 (2009), 280-282.
Review of James P. Woodward, A Place in Politics: São Paulo, Brazil, from Seigneurial Republicanism to Regionalist Revolt (Durham and London: Duke University Press, 2009). Chronicle of Historical Studies Vol. 6 (Winter 2008-2009), 260-263.
Book Translation
George Reid Andrews, Afro-Latinoamérica, 1800-2000, Madrid: Iberoamericana Vervuert, 2007. English to Spanish.
Works in Progress
Thrown in the Cesspool: Godless Burials, Death, and Religion in Amazonian Plantations, 1780s-1888. Article manuscript. Target publication: Slavery & Abolition.