Selected Publications (click for links)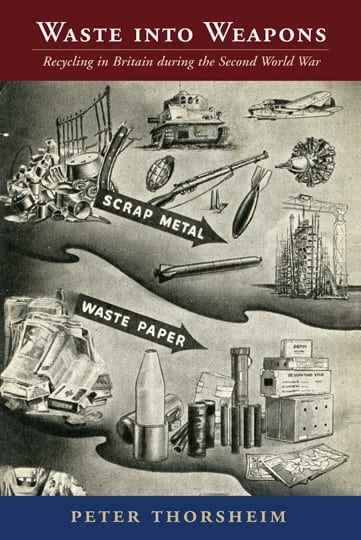 "Trading with the Enemy? The Flow of Scrap between Britain and Germany from Pre-war Rearmament to Post-war Reconstruction," Business History 64, no. 2 (2022): 963-83.
A Mighty Capital under Threat:The Environmental History of London, 1800-2000, co-edited with Bill Luckin. The History of the Urban Environment Series. Pittsburgh: University of Pittsburgh Press, 2020.
Inventing Pollution: Coal, Smoke, and Culture in Britain since 1800. Athens: Ohio University Press, 2006. Chinese edition published in 2016. Second US edition, with a new preface by the author, 2018.
"The Truth about London's Killer Fog," China Dialogue, 1 March 2017.
Interview with James Esposito, New Books in History, Dec. 2015.
Waste into Weapons: Recycling in Britain during the Second World War (Cambridge University Press, 2015). Shortlisted, 2017 Turku Book Award, Environmental Society for European History and the Rachel Carson Center for Environment and Society.
"Salvage and Destruction: The Recycling of Books and Manuscripts in Great Britain during the Second World War," Contemporary European History 22, no. 3 (August 2013): 431-52.
Roundtable review of Finn Arne Jørgensen, Making a Green Machine: The Infrastructure of Beverage Container Recycling (New Brunswick: Rutgers University Press, 2011), H-Environment Roundtable Reviews 3, no. 2 (2013).
"The Corpse in the Garden: Burial, Health, and the Environment in Nineteenth-Century London," Environmental History 16, no. 1 (January 2011): 38–68.
"Cities, Environments, and European History," (co-authored with Geneviève Massard-Guilbaud), Journal of Urban History 33, no. 5 (July 2007): 691-701.
"Preventing Pollution: Lessons from the Past," China Dialogue, 12 March 2007.
"Green Space and Class in Imperial London," in The Nature of Cities: Culture, Landscape, and Urban Space, ed. Andrew C. Isenberg (University of Rochester Press, 2006).
"Interpreting the London Fog Disaster of 1952," in Smoke and Mirrors: The Politics and Culture of Air Pollution, ed. E. Melanie Dupuis (New York University Press, 2004).
"The Paradox of Smokeless Fuels: Gas, Coke, and the Environment in Britain, 1813-1949," Environment and History 8 (2002): 381-401.
"The Smoke of Great Cities: British and American Efforts to Control Air Pollution, 1860-1914," (co-authored with David Stradling), Environmental History 4, no. 1 (January 1999): 6-31.
Research Interests
Modern Britain, environment, culture, gender, sexuality, and technology.
Current and Upcoming Courses
HIST 2111: Technology and Science in Society II: Since the Industrial Revolution (Spring 2023)
HIST 3001: Britain's Layered Past: Spring Break Study Abroad Course (Spring 2023)
HIST 3104: Britain, 1815-1914: The Age of Industry and Empire (Fall 2023)
HIST 3901: Spies, Sexism, and Surveillance: The Cold War through Film (Summer 2023)
HIST 4003/5001: Topics in Transnational Historiography: Sexuality (Fall 2023)
LBST 2102: Global Connections: The Paradoxical 20th Century (Summer 2023)
Education
Ph.D., University of Wisconsin-Madison, 2000.
B.A., Carleton College, 1991.