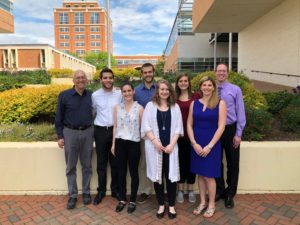 Co-directed by Drs. Jim Cook and Ryan Kilmer, the Community Psychology Research Lab involves a team of faculty, graduate students and undergraduates working together in partnership with community organizations to improve the well-being of children, youth, and families in the Charlotte community and beyond.
We follow a partnership-based approach, working with nonprofits, agencies, programs and initiatives across different areas. Our applied research and evaluation work extend across areas and populations, from early childhood to integrated primary and behavioral health care, education to public housing, and mental health to child welfare. In recent years, our efforts have largely focused on improving systems, services, programs, and supports for children and families in Charlotte and beyond. In many instances, the children and families served have been marginalized or have faced noteworthy adversity.
These partnerships are supported through multiple grants and contracts. As graduate students become more involved in the Lab, they have opportunities to develop mentoring relationships with undergraduate students, and the Lab provides a rich source of projects for required programmatic milestones (such as the second-year research project / M.A. thesis), and course-specific efforts.
In 2013, the Community Psychology Training Program at UNC Charlotte was recognized as the Outstanding Program by the Society for Community Research and Action (SCRA; Division 27 – Community Psychology – of the American Psychological Association). The "Excellence in Education Programs Award" recognizes "an exemplary undergraduate and/or graduate program that has innovative structures, strategies, and curricula that promote development of the field of community psychology and community research and action."
See here for more about our training in community psychology and here for more about the Community Psychology Research Lab.