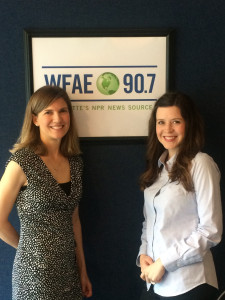 Bethany L. Johnson (MPhil, MA) is an instructor in history and an associate member to the graduate faculty and research affiliate faculty in the Department of Communication Studies at the University of North Carolina at Charlotte. She studies how science, medicine, and health discourses are framed and reproduced by institutions and individuals from the nineteenth century to the present. She also investigates the ways medical technology alters practitioner-patient relationships, particularly for patients lacking power and agency. Her interdisciplinary research appears in journals such as Health Communication, Women & Language, Departures in Critical Qualitative Research, Women's Reproductive Health, and Journal of Holistic Nursing.
Her previous work includes gender-specific international microfinance policy creation and impact assessment studies examining microfinance and public health programs for women in post-conflict settings. Based on her previous international work, she periodically teaches an LBST course on women and children in the developing world.
Her book, co-authored with Dr. Margaret Quinlan is currently available. Some of the key issues we investigate include: "sex-selection," infertility, infant loss, childbirth, breastfeeding, postpartum issues including maternal mortality, and developmental milestones.
A blurb on the book:
New mothers face a barrage of confounding decisions during the life-cycle of early motherhood. Whatever they "choose," they will be sure to find plenty of medical expertise from health practitioners to social media "influencers" telling them that they're making a series of mistakes. As intersectional feminists with two small children each, Bethany L. Johnson and Margaret M. Quinlan draw from their own experiences as well as stories from a range of caretakers throughout.
 
You're Doing it Wrong! investigates the storied history of mothering advice in the media, from the newspapers, magazines, doctors' records and personal papers of the nineteenth-century to today's websites, Facebook groups, and Instagram feeds. Johnson and Quinlan find surprising parallels between today's mothering experts and their Victorian counterparts, but they also explore how social media has placed unprecedented pressures on new mothers, even while it may function as social support for some. They further examine the contentious construction of prenatal and baby care expertise itself, as individuals such as everyone from medical professionals to experienced moms have competed to have their expertise acknowledged in the public sphere.
 
Exploring potential health crises from infertility treatments to "better babies" milestones, You're Doing it Wrong! provides a provocative look at historical and contemporary medical expertise during conception, pregnancy, childbirth, postpartum, and infant care stages.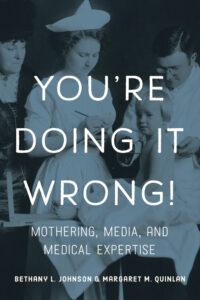 Education:
M.A.: The New School for Social Research, 2010
MPhil: University of Glasgow, 2005
B.A.: Nyack College, 2002
Click here for my website focusing on individual and joint projects with Dr. Margaret Quinlan.
Bethany Johnson Academic CV 2018-2019.