Full-Text Search
Jennifer Weller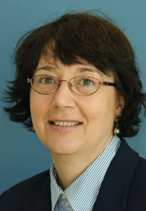 Associate Professor
Personal website: http://webpages.charlotte.edu/~jweller2/
Degree Institution: University Of Montana
Degree: Ph.D. 1990
Biography:
Dr. Jennifer Weller received her Ph.D. in Biochemistry from the University of Montana in 1990. She subsequently did a post-doc at Michigan State University and the Carnegie Institute at Stanford University, before joining the biotechnology company PE/Applied Biosystems in 1994. After 5 years in R & D working on automated molecular marker and gene expression systems, she moved to the National Center for Genome Resources in 1999 to work more specifically on the bioinformatics research associated with high-throughput genomics research. After a year as research faculty at the Virginia Bioinformatics Institute at Virginia Tech she moved to a tenure-track faculty position in the Bioinformatics and Computational Biology department at George Mason University in 2002. Dr. Weller joined the department at UNC Charlotte in June 2007.
Publications:
Overall, CC, Carr, DA, Tabari, ES, Thompson, KJ and Weller, JW (2011)"ArrayInitiative – a tool that simplifies creating custom Affymetrix CDFs" BMC Bioinformatics 12:136.
Taylor, R.C., Singhal, M., Weller, J., Khoshnevis, S., Shi, L., McDermott, J. (2009) A Network Inference Workflow Reveals Functional Groups, Metabolic Pathways, and Regulons in Salmonella typhimurium. Annals of the NY Academy of Science, Proceedings of the DREAM 2 conference.1158:143-58.
Gharaibeh, R.A., Newton, J.M., Weller, J.W., Gibas, C.J. (2010) "Application of Equilibrium Models of Solution Hybridization to Microarray Design and Analysis" PLoS ONE 5(6):e11048.
Thompson KJ, Deshmukh H, Solka JL, Weller JW (2010) "A white-box approach to microarray probe response characterization: the BaFL pipeline" BMC Bioinformatics 10:449.
Kumari, S., Verma, L., and Weller, J, "AffyMAPSDetector: A Tool To Detect SNPs In Affymetrix GeneChipTM Expression Arrays" BMC Bioinformatics 8:276 (2007).