Information Technology Consultant, Department of Geography and Earth Sciences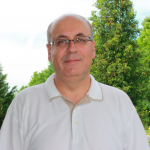 As a member of our Office of Academic Technologies support team, Elie is a solutions-oriented IT professional specializing in server administration, computer lab management (McEniry 203, 420, and 445), deploying, as well as managing and integrating cost-effective, high performance technical solutions to meet challenging business needs. Additionally, he held several industry IT consulting positions prior to joining the College of Liberal Arts & Sciences in 1994. Elie possesses extensive educational qualifications with Master's and Bachelor's degrees in Electrical Engineering and Computer Science. Core competencies and professional strengths include:
Solid knowledge of client/server distributed computing environments and support under Solaris, Linux and Windows operating systems;
VMware, VirtualBox and NX virtualization;
Solid knowledge of database performance and tuning, capacity planning and operating system issues and upgrades;
Linux and Windows computer lab imaging;
Computer modeling; and
Supporting and troubleshooting hardware, software and networking issues.
Contact Information
704-687-5972
ehsaliba@uncc.edu
McEniry 309