Educational Research
As an educator, Dr. Chi has a passion for teaching and been trained in evidence based scientific teaching by the National Academies Institute on Undergraduate Education and has adopted a teaching philosophy centered on engaging student curiosity by means of active inquiry-based learning. His educational research involves creating, implementing and evaluating novel informal and formal inquiry-based learning exercises.
---
Informal learning
Our lab crew works closely with the College of Computing and Informatics (CCI) Makerspace to understand how digital fabrication can improve informal and formal learning approaches to increase retention and broaden participation in STEM education for students and faculty. We are particularly interested if student-derived digitally fabricated prosthetics can promote cross-disciplinary interactions and improve informal and formal educational environments. Picture: Summer 2019 Researchers, Irvin Naylor (CCI), left and Jackson Poulnott (Engineering), right.
---
Outreach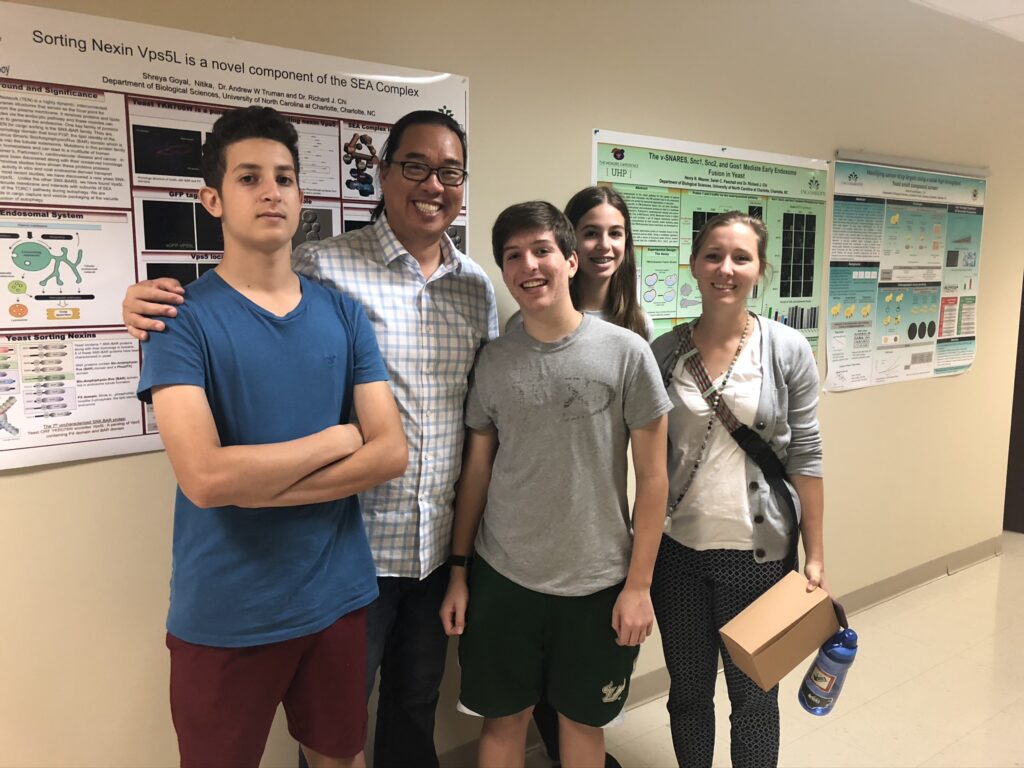 Each semester, Dr. Chi hosts students from local high schools to tour the research lab, have informal discussions on scientific research and of course play with microscopes, 3d printers or even isolate their own DNA! If you are an educator from a nearby institute, please feel free to reach out for a tour. Picture: Ashlyn Sprangeberg and her students on a recent visit from Omni Montessori School, Waxhaw, NC.
---
Typical Course Offerings
Course
Semesters
Level
BIOL3111 Cell Biology
Fall
Undergraduate
Special Topics Advanced Cell
Spring
Graduate (Odd Years)
Special Topics Molecular Mechanisms of Cancer Lab
Spring
Cross-listed
(Even Years)
Please check banner for most up to date schedule for Dr. Chi