If you've ever taken a speech, writing, or communications class, it's likely that you've heard of the Rhetorical Triangle. It looks a little something like this: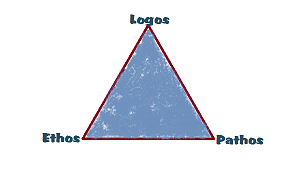 The Rhetorical Triangle is composed of three parts: Ethos, Pathos, and Logos. It is often represented by an equilateral triangle: all three sides are equidistant from one another to show the equal importance of each concept to effective communication and persuasion. Aristotle (the Greek philosopher and rhetorician) taught that audience appeal in these three areas is what determines whether a speaker can effectively persuade, but this does, in fact, extend to all forms of communication, including writing!
So without further ado, I present our three concepts:
ETHOS
Ethos is what convinces your reader that you're a writer of character and credibility. It employs a variety of techniques to show the reader that you as the writer know what you're talking about and are trustworthy enough to provide the right information to the reader. As a writer, you're tasked with persuading your reader to accept your thesis/argument as true. In order to do this, you should show that you've considered multiple viewpoints in the development of your argument by correctly citing and documenting sources, and illustrate an awareness of the genre and purpose by choosing appropriate words and a suitable tone. This is where professionalism and formality come in: if you send an email to, say, a professor, and you begin the email with "What's up," you immediately destroy your ethos; your reader will assume that you are unaware of generic conventions, and whether you like it or not, may believe that you aren't invested in the course or the subject.
Think of Ethos as your chance to make a good impression. You want to put the right foot forward from the beginning and show your reader that you've done the work, you know your subject, and that they can trust you to tell the truth. If your reader inherently trusts you, then it will be much easier for them to believe you!

PATHOS
On the opposite end of the spectrum, Pathos is an appeal to emotion, beliefs, and values. Instead of focusing on the writer's role, it places emphasis on the role of the audience/reader. In some genres, this is a direct appeal to the audience's emotions through, say, the telling of a heart-wrenching story with vivid detail and imagery; other times, it caters to belief and value systems that the writer knows his or her readers might ascribe to through specific, relatable examples. Essentially, Pathos is how you make your subject matter to your reader. Regardless of the method by which you appeal to audience, Pathos requires that you think about your audience even before you begin writing, asking yourself who you want to read your work and who is likely to read it. If you have an idea of who your audience is, it will be much easier for you to appeal to them using Pathos.
Some of the best examples of Pathos that we see on a regular basis are advertisements. Think of the last commercial that stood out to you. Why do you remember it? The Cam Newton Buick commercial from the 2017 Super Bowl employs Pathos incredibly well; small children play football in a field when parent points out a new Buick to another parent, who says "If that's a Buick, then my kid's Cam Newton." The kid promptly morphs into the popular Panthers quarterback, much to the chagrin of the parents and young football players. It seems like a silly way to sell a car, but the thing is, it's one of the only ads I remember from the 2017 Super Bowl, so it was obviously effective. Your goal is to do something similar with words in your writing!
LOGOS
The third corner of our Rhetorical Triangle is Logos. Logos represents the role of the text in effective persuasion, as it asks us to think specifically about how well the writer has argued his or her point. It appeals directly to logic and reason. The easiest way to test out your Logos is to ensure that your argument is clear and specific; if you're writing an academic research paper, you might underline or highlight your specific thesis statement to assure yourself that you are indeed making an argument. You should also revisit your evidence; are your sources not just well-documented, but credible? For instance, if you make a strong argument but use biased "news" sources or your friend's blog as evidence, you immediately throw your own argument into question. Is your thesis supported well throughout the paper by strong connections and references back to the argument? Do you argue your point logically and in an organized manner, so it's easy to follow your thesis as it develops? These are the questions you should ask yourself as you evaluate your work.
In sum, the Rhetorical Triangle is a useful tool that you can use to evaluate the effectiveness of your writing. If you want to put these concepts into practice but would like some guidance doing so, be sure to visit the Writing Resources Center, and we can help you continue to improve your communication as a writer!
Sources:
https://www.lsu.edu/hss/english/files/university_writing_files/item35402.pdf
http://www.occc.edu/comlab/pdf/handouts/Rhetorical.pdf
http://study.com/cimages/multimages/16/drawingrhetoricaltriangle.png