Full-Text Search
David Dalton
Associate Professor of Spanish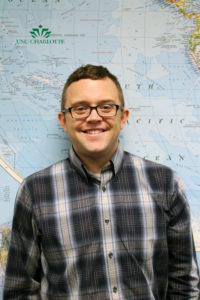 & Director of Departmental Honors Program
PhD, University of Kansas, 2015
MA Brigham Young University, 2011
BA Brigham Young University, 2009
Dr. Dalton joined the faculty as a Visiting Assistant Professor of Spanish in August 2016. He became an Assistant Professor in 2017, and he was promoted to Associate Professor in 2021. His book, Mestizo Modernity: Race, Technology, and the Body in Postrevolutionary Mexico (University of Florida Press, 2018) discusses the role of science and technology in racial construction in postrevolutionary Mexico. He is currently finishing a second book with a tentative title of Cyborgs and Ne[cr]oliberalism: Robo-Sacer Resistance in Mexican and Chicano/a/x Fantastic and Science Fiction, 1992-2018. This book interrogates the markets of death that appear in neoliberal-era literature and film from both Mexican and Chicano/a/x cultural producers. Technology emerges as a tool of domination that oppressed people can subvert in an attempt to demand equal rights.
Dr. Dalton has taught numerous classes at the graduate and undergraduate levels. He has mentored several MA and Honors theses on the following topics: cultural memory in Latin American cinema; healthcare systems in Latin America; race and ethnicity in postrevolutionary Mexican cinema; religion and identity in Latin America.
Publications
Book
2018. Mestizo Modernity: Race, Technology, and the Body in Postrevolutionary Mexico. Gainesville: University of Florida Press.
Honorable Mention: LASA Mexico Book in the Humanities
Special Edition
2018. The Transatlantic Undead: Zombies in Hispanic and Luso-Brazilian Literatures and Cultures, special issue of Alambique: Revista Académica de Ciencia Ficción y Fantasía. 6(2). Intro. & Co-edited with Sara Potter.
Peer-Reviewed Articles in Scholarly Journals and Scholarly Books
2021. "Science Fiction vs. Magical Realism: Oppositional Aesthetics and Contradictory Political Discourses in Sergio Arau's A Day without a Mexican." In Peter Lang Companion to Latin American Science Fiction, eds. Silvia Kurlat Ares and Ezequiel De Rosso, 43-53. New York: Peter Lang.
Republished in translation as 2021. "Ciencia ficción versus realismo mágico: Estéticas oposicionales y discursos políticos contradictorios en Un día sin mexicanos, de Sergio Arau," translated by Delfina Erochenko. In La ciencia ficción en América Latina: Crítica. Teoría. Historía, edited by Silvia Kurlat Ares and Ezequiel De Rosso, 45-56. New York: Peter Lang.
2021. "Drones, Sovereignty, and Exception: Biopolitics and Resistance along the U.S.-Mexican Border." In The Politics of Technology in Latin America (Volume I): Data Protection, Homeland Security and the Labor Market, edited by Avery Plaw, Barbara Carvalho Gurgel, and David Ramírez Plascencia, 80-94. New York: Routledge.
2021. "Borderlands, Race and Gender in Novels by Helena María Viramontes and Rosario Castellanos." In Teaching Mexicana and Chicana Writers of the Twentieth Century, ed. Elizabeth C. Martínez, 236-43. New York: The Modern Languages Association of America.
2019. "El consumo de la muerte en las televisiones nacionales: El necroliberalismo y la nación cyborg en 'Ruido gris' de Pepe Rojo." Balajú: Revista de cultura y comunicación 11: 3-26.
2019. "Blocking the Synapse: Distancing Drugs in Sabina Berman's El narco negocia con Dios." The Latin Americanist 63(4): 383-98.
2019. "Una ruptura en la fundación nacional(ista): Triángulos amorosos disgénicos en Margarita de niebla de Jaime Torres Bodet y El réferi cuenta nueve de Diego Cañedo." Mexican Studies/Estudios Mexicanos 35(3): 382-407.
2019. "On (Dang) Quesadillas and Nachos: Mexican Identity and a Mormon Imaginary in the Films of Jared Hess." Journal of Religion, Film, and Media Studies 5(2): 141-65.
2019. "Una espectralidad cibernética: Problematizando la memoria hauntológica en Historias del séptimo sello de Norma Yamille Cuéllar." iMex Revista: México Interdisciplinario/Interdisciplinary Mexico 8(16): 84-97.
2019. "1968 Today: Parallels between Tlatelolco and the Current Moment in Mexico." Journal of Latin American Cultural Studies: 1-10. https://doi.org/10.1080/13569325.2019.1570917
2018. "Mexican Cinema in the Buffyverse: Toward an Ethics of Transnational Adaptation and Appropriation." In Where is Adaptation?: Mapping Cultures, Texts, and Contexts,eds. Casie Hermansson and Janet Zepernick, 229-44. Amsterdam: John Benjamins.
2018. "Immunizing the Zetas: Drug Violence and Zombie Biopolitics in Pedro M. Valencia's Con Z de zombie." Revista de Literatura Mexicana Contemporánea 24(73): 137-50.
2018. "Antropofagia, Calibanism, and the Post-Romero Zombie: Cannibal Resistance in Latin America and the Caribbean." The Transatlantic Undead: Zombies in Hispanic and Luso-Brazilian Literatures and Cultures, special issue of Alambique: Revista Académica de Ciencia Ficción y Fantasía 6(2): 1-20.
2018. "Treating Indigeneity: Medicine and Racial Privilege in 'La rueda del hambriento' and 'El don rechazado' by Rosario Castellanos." Revista de Estudios Hispánicos 52(3): 347-70.
2018. "Borderline Technologies: 'Bear Life' and Cyborg Theatre in the Work of Alejandro Ricaño." Latin American Theatre Review 52(1): 65-82.
2018. "Liberation and the Gothic in Carlos Solórzano's Las manos de Dios." In Latin American Gothic: Transposition, Hybridization, Tropicalization, eds. Sandra Casanova-Vizcaíno and Inés Ordiz, Routledge, 84-95. New York: Routledge.
2017. "Educating Cohesion: The Teacher as an Agent of the Post-Revolutionary State." In Modern Mexican Culture: Critical Foundations,ed. Stuart A. Day, 107-22. Tucson: University of Arizona Press.
2016. "Science and the (Meta)physical Body: A Critique of Positivism in the Vasconcelian Utopia." Revista Canadiense de Estudios Hispánicos 40(3): 534-59.
2016. "Unos anticonceptivos apocalípticos: Inconmensurabilidades semánticas entre la medicina y la religión en La Píldora maravillosa de Jesús Pavlo Tenorio." Medicina y Humanidades: Revista de Medicina, Bioética y Filosofía 8: 83-94.
2016. "Robo Sacer: 'Bare Life' and Cyborg Labor Beyond the Border in Alex Rivera's Sleep Dealer." Hispanic Studies Review 1: 15-29.
2016. "Santería and Resistance in Tomás Gutiérrez Alea and Juan Carlos Tabío's Strawberry and Chocolate and Fernando Pérez's Life is to Whistle." Journal of Religion and Film 20(3): 1-34.
2016. "Intenciones enmascaradas en la pantalla plateada. El Santo y el mimetismo imperial." Alambique: Revista Académica de Ciencia Ficción y Fantasía 4(1): 1-15.
Winner of the Eleventh Annual Jamie Bishop Memorial Award (Top article on the fantastic in the arts in a foreign language)
2016. "Una huella mexicana en el cine español: La naturaleza mágica y resistente en Biutiful de Alejandro González Iñárritu y El laberinto del fauno de Guillermo del Toro." Millars: espai i historia 40(1): 99-122.
2016. "Imaginando comunidades en tensión: Elena Garro y el indigenismo." Nocturnario 13.
2014. "Educating Social Hierarchies in Rosario Castellanos's Balún Canán." Chasqui: revista de literatura latinoamericana 43(2):150-60.
2013. "Una objetividad subjetiva: Paradigmas coloniales en las observaciones botánicas de Gonzalo Fernández de Oviedo y Valdés y José de Acosta." Ometeca 18: 122-37.