Paloma Fernandez Sanchez
Office: COED 459A
Virtual Office: https://uncc.webex.com/meet/pfernan2
Phone: 704-687-6017
Email: pfernan2@uncc.edu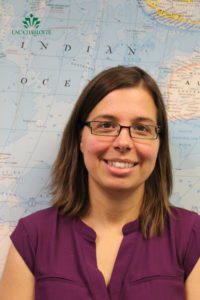 Dr. Paloma Fernández Sánchez is a Senior Lecturer in Spanish in the Department of Languages and Culture Studies and serves as the academic advisor for Spanish undergraduate programs (majors, minors and certificates). Dr.  Fernández Sánchez is affiliate faculty for the Latin American Studies program at the University of North Carolina at Charlotte. She holds a Ph.D. in Spanish from Indiana University Bloomington. She also holds an M.A. in Spanish from Loyola University Chicago, and an M.A. in North American Studies from the Universidad de Alcalá de Henares in Spain.
In addition to teaching at UNCC, Dr. Fernández Sánchez has experience teaching Latina Women Writers, Latinx literature, Caribbean cultures and their migration to the United States, as well as a variety of topic courses on racial constructions in Latin American literatures, at the graduate and undergraduate levels at Indiana University Bloomington, University of Louisville, and Columbia College SC.
Together with Dr. Carol Polsgrove, Professor Emerita of Journalism, Indiana University Bloomington, Dr. Fernández Sánchez, has an ongoing project to bring Latin American literature to more English-language readers, hosted at https://latinamericanwriters.com/
Educational Background  
Ph.D. 2011 – Indiana University Bloomington (Spanish, Comparative Literature)
M.A. 2005 – Loyola University Chicago (Spanish – Gender and Women Studies)
M.A. 2003 – Universidad de Alcalá de Henares (North American Studies)
B.A.  2001 – Universidad de Alcalá de Henares (Filología Inglesa)
Teaching Areas 
Spanish Language and culture
Spanish for Heritage Speakers
Latino Literatures and Cultures
Caribbean Literature and Cultures
Research Interests 
Technology in SLA classrooms
US Latino Literatures and Cultures.
Transnational identities in the Caribbean and Latin America.
Gender Studies.
Professional Affiliations 
American Association of Teachers of Spanish and Portuguese (AATSP)
Latin American Studies Association (LASA)