Don't forget you have Weekly Discussion Post #14 due Friday, 12/02, at 11:00pm.
---
Plan for this Topic
I'm very interested in video games as representations of broader culture. I'm so interested, in fact, that I wrote a book on video games that was published a couple years ago. That book's second chapter was completely devoted to debunking the myth that playing violent video games leads to real world violence. Normally, I wouldn't come right out and say exactly what I believe on a controversial subject; instead, I'd go through the process of how to understand the subject. I will still explore with you why I conclude the way I do, but, so there's no doubt where I stand, let me reiterate this:
Absolutely no evidence exists to support the conclusion that playing violent video games (or consuming violent media) leads a viewer to commit real world violence.
Before moving onto the readings, I want to throw some things at you that might suggest consuming violent media leads to real world violence. The rest of this page will cover "evidence" that attempts to support such a claim. December 5th's class webpage will have evidence and arguments that call such a claim into question. Read the articles first, and then watch the videos I link to at the bottom of Dec. 5th's webpage. Because I've done so much research on this topic, I'll offer additional resources you can go to for your own personal interest. I will specify which videos will show up on the Final Exam. All the notes are fair game for the Final Exam, but only the readings in the syllabus (on Canvas) will be on the Final Exam. The other readings I link to are to support the claims I make or for more information.
If you're on campus or logged onto your Atkins Library account, you'll be able to watch this video:
Violence in Video Games and Real-World Violence
The articles I asked you to read are only part of the story on attempts to establish (and point out flaws in such attempts) a link between exposure to violent video games and aggressive behavior. I don't expect the sample to end the discussion on this topic; instead, I expect the discussion that comes from the articles to help guide us in asking questions. We've talked quite a bit about peer-review and scientific/expert opinions this semester. In this topic, there are clearly authorities at odds with one another, thus, limiting any chance at concluding based on simply going with the authority on the matter.
As you reflect on these articles, consider what you've been told about violent video games (or violent media in general) and the effects they supposedly have on viewers—adults and children. I wonder what even motivates these studies. After all, if researchers can never control for the influence they have on the subjects they observe, how might a hypothesis, such as, "Violent video game exposure likely leads to real-world aggression," bias the study?
The first two articles try to establish a causal link between violent video game play and real-world aggression. The first is a peer-reviewed article and the second filters discussions of "what the experts say." Refer to the reading and your own observations and think critically based on your reasoned perceptions of how technology mediates behavior. What might our cultural studies lens bring to this discussion? Additionally, consider the audience and purpose of the different texts. Could assumed audience have an effect on how or what information is presented? Obviously, the answer is "yes," but what is the effect(s)?
By the way, this webpage has an example of a study using a "noise blast test."
Important Definitions
Violent media

: "depict characters intentionally harming other characters who presumably wish to avoid being harmed" (p. 1068, para 2)

Aggression

: "behavior that is intended to harm another person who is motivated to avoid that harm….it is not an emotion, thought, or intention" (p. 1068, para 2)

Violence

: "the most extreme form of physical aggression, specifically physical aggression that is likely to cause serious physical injury" (p. 1068, para 2)
The above definitions all come from Anderson et. al. "Longitudinal Effects of Violent Video Games on Aggression…".
Question to Lead Off
Think back to the experiments on memory transfer and worms from the very beginning of the semester (your Final Exam might have a few questions on that study). Why were those experiments never decisively confirmed?
As you reflect on these video game articles, consider what you've been told about violent video games (or violent media in general) and the effects they supposedly have on viewers—adults and children. I wonder what even motivates these studies. After all, if researchers can never control for the influence they have on the subjects they observe, how might a hypothesis, such as, "Violent video game exposure likely leads to real-world aggression," bias the study?
Pause on that question for a moment, and think about all the factors that need to be controlled for in order to make a causal link between violent video game exposure leading to real-world violence (not just aggression defined above but the most severe form of aggression). Below is a graph on the rate of crime (violent ) in the United States: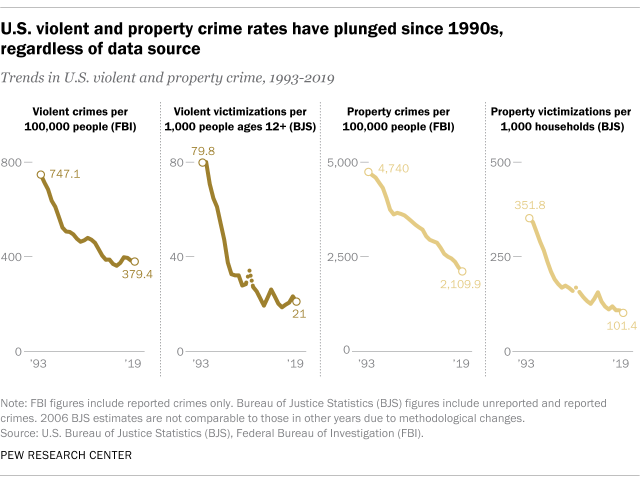 If the video game Mortal Kombat came out in 1992, and crime has plummeted…well, let's read a bit more. I certainly don't want to bias you for or against this topic.
Anderson, Craig A. et. al. "Longitudinal Effects of Violent Video Games on Aggression…"
Obviously, Anderson believes there's a link between habitual video game violence exposure (HVGV) and proclivity to be aggressive in the real world. As we discuss, be able to point to places in the reading when you make comments or ask questions about Anderson's (and the other two articles') conclusions or steps to those conclusions. Maybe we're all just avatars in a huge video game…
P. 1067, para 5: "Habitual violent video game play early in the school year predicted later aggression…"

Define habitual. Why would habitual practices be more worrisome to researchers than casual practices?

P. 1067, para 6: "As a whole, the research strongly suggests reducing the exposure of youth to this risk factor."

Is this conclusion arguable?
What other types of exposure do authorities (of all kinds) try to limit when it comes to children?

P. 1068, para 1: "If playing violent video games has harmful effects on some portion of players, then the vast majority of American youth are highly exposed to an unnecessary risk factor."
P. 1068, para 3: Studies show "playing a violent video game causes an immediate increase in aggressive behavior, aggressive thoughts, and aggressive emotions"
P. 1068, para 3: Studies also show "clearly link violent video game play to high levels of aggression and violence in real world contexts"

What would it take to convince you that something has proven its link "clearly"?
For instance, marriage is clearly the leading cause of divorce: no one not married gets divorced.
However, and we can do this poll in class, everyone who plays violent video games doesn't commit acts of violence.

P. 1068, para 5: interactive nature of video games a concern for researchers
P. 1070, para 5: Boys more likely to play violent video games than girls

What's the significance in this gender observation?

P. 1070, para 5: "previous research that shows that the best predictor of future aggression is history of past aggression"
P. 1070, para 5: The idea that children are naturally aggressive is wrong
P. 1070, para 6: "That both cultures yielded significant longitudinal effects of approximately the same magnitude illustrates the power of violent video games to affect children's developmental trajectories in a harmful way"

Why is this conclusion significant for a journal named Pediatrics?

P. 1071, para 4: "Youth violence is a public health issue in the United States, because it accounts for so many deaths"
P. 1071, para 5: "such extreme violence is relatively rare in the age groups we studied (relative to milder forms of physical aggression)"
p. 1071, para 5: "physical aggressiveness in youth is 1 of the largest risk factors for later violence," and understanding "youth aggression is vitally important if we are to understand and reduce violence in modern society."

P. 1071, para 5: goal is to reduce violence in modern society
I think the rhetorical goal the authors have for the final paragraph is to juxtapose violent video games and violence in society. Unfortunately, they don't provide a link. Do video games where one competes with friends (or online trolls) make people angry and aggressive? I have anecdotal evidence that competition increases aggression, but these authors haven't established an empirical link that violent video games lead to real world violence.
However, this is peer-reviewed research, and other outlets pick up on the topic without scrutinizing the finding the way we will.
Harvard Health Publications. "Violent Video Games and Young People"
This article is an attempt to explain the debate surrounding the link between playing violent video games and real world violence. The first sentence, which is a summary of the articles, claims experts are divided but insists that children can be protected if parents are vigilant. Although you have read it, without even reading the rest of it, what is the goal of the article, and what do you think motivates the author (someone or group affiliated with Harvard Medical School)?
"One View" para. 1: "The AAP policy describes violent video games as one of many influences on behavior, noting that many children's television shows and movies also contain violent scenes"

Of course, video games are seen as more harmful…why?

"One View" para. 2: Who could argue with the observation "that children observing, mimicking, and adopting behaviors"
"One View" para. 3: "some casual observers go further, assuming that tragic school shootings prove a link between such games and real-world aggression"

Pause on that statement. What/who is a casual observer, and why would the author include such a statement?
Remember, you're not just reading for content but to follow the argument and reflect on what could be motivating the authors and the rhetoric of the article.

What's going on with the table from PEW Internet & American Life Project (Sept. 2008)?

Is it parallel? It's part of a larger survey, but they chose those three statistics to show.
In case you want to read the whole study (it's long, so don't do it now), check out "Teens, Video Games and Civics"

"A more nuanced View," para. 2: "many studies on the issue of media violence rely on measures to assess aggression that don't correlate with real-world violence…many are observational approaches that don't prove cause and effect"
"A more nuanced View," para. 3: "violent video game use and school shootings…most of the young perpetrators had personality traits, such as anger, psychosis, and aggression, that were apparent before the shootings and predisposed them to violence"

This is circular logic, but being aggressive leads to acts of aggression.

"A more nuanced View," para. 5: It depends on individuals' personality whether or not they are likely to be more aggressive after playing violent video games, specifically neuroticism, disagreeableness, and low levels of conscientiousness.

By the way, wikipedia is a good place to start research, but don't end your research their.

"What parents can do," para. 1: "Parents can protect their children from potential harm from video games by following a few commonsense strategies…"
"What parents can do," para. 2: "Parents can best protect their children by remaining engaged with them and providing limits and guidance as necessary"
What's the actual goal of this article and how do the outside sources help accomplish this goal? This article isn't peer reviewed, but it is authoritative and cites peer-reviewed research. Consider the audience: parents who are non experts.
Harding, Anne. "Violent video games linked to child aggression"
Think back to our readings from Fox News and CNN on COVID-19 and masks. Holly Yan's article on CNN.com reported on expert analysis. Yan, a journalist, interviewed and compiled a short article based on what scientific authorities told her. Although Yan's article wasn't anywhere near as thorough as a peer-reviewed article would be, she provided a good amount of evidence that met her audience's expectations. She's not a scientist communicating with other scientists. Instead, she's a journalist writing for a general audience.
That same context–journalist writing to a general audience–matches Anne Harding's article. The difference is that Harding focuses mainly on Craig A. Anderson's longitudinal study of American and Japanese gamers, which you read for today. Harding does cite Dr. L. Rowell Huesmann, director of the Research Center for Group Dynamics at the University of Michigan's Institute for Social Research in Ann Arbor and Dr. David Walsh, president of the National Institute on Media and the Family, and she still concludes the article on Walsh's argument about "a culture of disrespect."*
*Of course, we can't forget the man who got no respect: Mr. Rodney Dangerfield! His 101st birthday was last month on Nov. 22nd.
She also cites Dr. Cheryl K. Olson, co-director of the Center for Mental Health and the Media at Massachusetts General Hospital, who claims, "We may find things we should be worried about, but right now we don't know enough." Olson still thinks children's parents ought to "move the computer and gaming stuff out of kids' rooms…so they can keep an eye on what their child is up to," which implies she thinks violent media most likely causes aggression, but she just doesn't feel there's enough evidence for her to say so with any certainty. Consider these quotes from the article:
"…children who were exposed to more video game violence did become more aggressive over time than their peers who had less exposure."
"The findings are "pretty good evidence" that violent video games do indeed cause aggressive behavior, says Dr. L. Rowell Huesmann."
"There are definitely games kids shouldn't be playing, [Dr. Cheryl K. Olson] said, for example those where hunting down and killing people is the goal."
Dr. David Walsh concludes the article with these points:
"It doesn't necessarily mean that because a kid plays a violent video game they're immediately going to go out and beat somebody up."
"The real impact is in shaping norms, shaping attitude. As those gradually shift, the differences start to show up in behavior."
To Harding's credit, she uses the word "aggression" in the title. Most readers aren't going to think about the nuanced definitions Anderson et.al. have for aggression and violence. In general, the public will think aggression is verbal and lightly physical (pushing, spitting, and even pointing), and they'll consider violence to be mostly physical (punching, kicking, stabbing, beating, etc.). The problem with Harding's article is that she can't ask the really probing questions; she only reports what the experts say. I'm not claiming she's NOT being an objective journalist; it's the so-called experts who scapegoat video games and other violent media as causing real world violence who are unethical. But, to the casual reader of this article, the information is as far as they'll get, so they'll conclude that video games lead to real-world violence.
Perhaps Harding needed to talk to more researchers who call into question this specious link, such as our next authors. Harding's article came out in 2009. Research from 2010-present has pretty much ended the debate, demonstrating that consuming violent media doesn't make a person commit real world violence. I think the authors had something to say about aggression. I've seen people fight at sporting events when they're caught up in cheering on their team and denigrating the opponents. I've seen friends fight after losing video games, boards games, races, and even significant others.
Humans are a violent, aggressive species. We are driven by conquest and destruction (c.f. our ecocidal nature). This behavior is as old as humanity. The first video game came out in 1962; the first commercially viable and popular games were really from the mid- to late-1970s. There's no evidence that this less-than-sixty-year-old technology Trumps the aggressive, violent nature of humanity. What's easier to defend is that video games reflect a culture that likes to consume violence, a culture that likes domination. Humans have been developing weapons for millennia. We've also been inventing games to simulate violence. We just love violence.
Next Week
Finish reading the other video game articles, which are shorter, by next week.
Don't forget to do Weekly Discussion Post #14–last one of the semester–is due on Canvas by this Friday, 12/02, 11:00pm. It's worth 40 points, so make sure you write at least 250 words for your post.