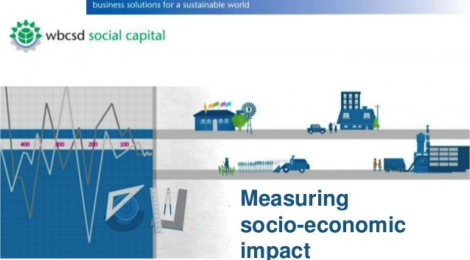 Post by Frazier Benya, Program Officer in the National Academy of Engineering's Center for Engineering Ethics and Society (CEES)
The World Business Council for Sustainable Development is a group composed of international business leaders focused on discussing, analyzing, and strategizing about sustainable development. This organization serves as an interesting case for how social sustainability is being defined and also provides some useful tools for addressing social sustainability in business. The WBCSD addresses the social component of sustainability through a focus on building and supporting efforts in two areas: social capital and capacity building.
For social capital, they encourage a practice of "inclusive business" (which they coined). They describe "inclusive business" as going "beyond philanthropy to find synergies between development goals and a company's core business operation." "On the one side, inclusive business models aim to provide innovative solutions to supply affordable products and services to meet basic needs of the poor for water, food, sanitation, housing and healthcare. On the other side, they are also about creating income and employment opportunities for low-income communities – either directly or through companies' value chains as suppliers, distributors, retailers and service providers." Further explanation of this concept is available on their website. They also host a blog on the topic that highlights activities in this area with links to resources, cases, and tools for pursuing inclusive business. The WBCSD has also developed a framework for measuring the socio-economic impact of business and they have started an initiative on addressing the lack of access to clean, reliable, and affordable energy. This initiative was launched in 2012 in parallel with the United Nation's International Year of Sustainable Energy and WBCSD has already released a report that describes the role business is playing in addressing this challenge.
For the capacity building efforts, the WBCSD includes educational initiatives for future business leaders on sustainable development that aim to build and sustain expertise in business around sustainability. The council also includes strategies and efforts to apply sustainability concepts into corporate culture as a means of motivating and encouraging employees to support sustainable business practices. While WBCSD doesn't mention it, this may have the side effect of creating a more sustainability conscious society.