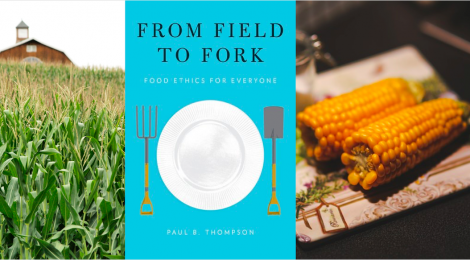 FROM FIELD TO FORK Food Ethics for Everyone
Paul B. Thompson
(Oxford | June 5th 2015 | Hardcover | 344 pages | $21.95 | ISBN: 9780199391691)
From the publisher:
As we become ever more aware of how what we eat affects our bodies, our communities, and our planet, we're being presented with an increasing array of culinary options; organic, gluten-free, fair trade, etc. Along with these choices comes an equally befuddling series of ethical imperatives; justice for food workers and small farmers, the rising concern over the impact of industrial agriculture on food animals and the broader environment, all while a global epidemic of obesity-related diseases threatens to overwhelm modern health systems. How do we begin to think through these issues for ourselves?
Paul B. Thompson's FROM FIELD TO FORK: Food Ethics for Everyone applies the rigor of philosophy to key topics in the first comprehensive study to explore the interconnections hidden deep within this jumble of culinary issues.
Bringing to bear more than thirty years of experience working closely with farmers, agricultural researchers and food system activists, he explores the eclipse of food ethics during the rise of nutritional science, and examines the reasons for its sudden re-emergence in the era of diet-based disease. Thompson discusses social injustice in the food systems of developed economies and shows how we have missed the key insights for understanding food ethics in the developing world. His discussions of animal production and the environmental impact of agriculture break new ground where most philosophers would least expect it.
By emphasizing the integration of these issues, Thompson introduces a fresh way to think about practical ethics that will have deep implications for how and what we eat.
About the Author:
Paul B. Thompson has been a leading scholar in food ethics for over thirty years. He was present at the founding of three professional societies for food ethics and has served in an advisory capacity for the U.S. National Research Council, the Food and Agricultural Organization of the United Nations, Genome Canada, and Wageningen University and Research Institute in the Netherlands, among others. He edited the Encyclopedia of Food and Agricultural Ethics and writes a blog for Thornapple Community Supported Agriculture in Lansing MI.
To schedule an interview with Paul B. Thompson or to request a review copy, please contact: Jonathan Kroberger, Publicist: 212-726-6243 or Jonathan[dot]Kroberger[at]oup[dot]com
Image credits: "Jersey corn" (left image) by takomabibelot used under a Creative Commons license.