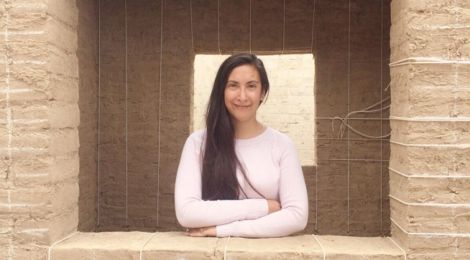 Malena Serrano Lazo is Assistant Professor of Dynamics at the Pontifical Catholic University of Peru. As part of her master's research, she contributed to an interdisciplinary project aimed to assist many rural communities in the Peruvian Andes with mitigating the high seismic risk of building with adobe (sun dried mud bricks). Malena is also organizing the Lima site that is participating in the 2017 INSS Conference in June.
The research team worked with the community of Pullo to raise seismic awareness among its inhabitants and to train them, in a practical way, on safer building practices. One affordable alternative method being encouraged by the team was using nylon rope reinforcement.
People in the community were taught the skills to rebuild or reinforce their adobe houses by themselves, and continued improving the quality of their households and others after the project was over. The research team viewed housing as an essential constituent of social development[1], and considered improved quality of housing as one step towards social sustainability of a community.
This social aspect of transitioning to new safer building practices presented the biggest challenge because of the lack of formal training on community engagement. In Malena's experience in Peru, civil engineers were taught to assess seismic vulnerability of a household or a community, but not how to raise seismic awareness of said vulnerability; also, they were taught to design and build earthquake resistant infrastructure, but not how to train rural dwellers to adopt the practices. Further, they were not taught about equitable housing or promoting social cohesion, thus, this project has been an interdisciplinary challenge.
In Malena's opinion, social sustainability will get more visibility as interdisciplinary efforts reach some consensus on practical advice for incorporating social considerations in future project development.
The research team used tools, such as community maps, to understand people's thoughts on earthquakes, earthquake resistant housing, and adobe, and practices, such as meeting with many community members to avoid one-sided decisions and to validate every step of the project (the diagnostic, the project, time schedules, location for the workshops, etc.) to help address the challenges of incorporating social aspects of sustainability in their project.
They designed the project to promote equitable housing and harmonious social relations. They did not focus on just training masons, instead they tried to reach women and seniors too; they did not make one-sided decisions, instead they included community members in the decision-making process; and they did not strong-arm participants, instead they promoted volunteer work and genuine interest in the project. To ensure these considerations were being made throughout the process, Malena and her collaborators kept in mind that their goal was not to teach how to build safe houses to a rural community; but it was to improve their housing conditions in a sustainable way.
For more on this project and Malena's work, see her recent article in Sustainability: Science, Practice, and Policy.
[1] Chiu, R. 2003. Social sustainability, sustainable development and housing development: the experience of Hong Kong. In R. Forrest and J. Lee (Eds.), Housing and Social Change: East – West Perspectives. pp. 221 – 239. London and New York: Routledge.