National Coffee Day — I wish you all a happy National Coffee Day. As everyone who knows me can attest, I think every day should be national coffee day, but it is still great to have a special day set aside to celebrate coffee. The connections between the English Department and coffee run deep. There are endless associations with coffee shops and literature. During the late 19th century, Viennese coffee houses functioned as cultural meccas for European writers. During the 1950s, Greenwich Village coffee shops were where the Beat writers gathered to share poetry and play their bongo drums. Even today writers tend to congregate at Starbucks and other coffee shops. Of course , there are many other ways in which the English Department is tied to coffee. For me and many other members of the department, drinking coffee and writing are inextricably linked. For many of our students, drinking coffee helps them stay awake as they cram for midterms or try to finish their term papers. Coffee has also been the topic of some great quotations by some of our favorite writers. For example, one of Aaron Gwyn's favorite writers is Albert Camus, and here is what Camus had to say about coffee: "Should I kill myself, or have a cup of coffee." One of Daniel Shealy's favorite writers is Louisa May Alcott, and here is what she has to say about coffee: "I'd rather take coffee than take compliments just now." My favorite coffee quotation is by the famous composer Johann Sebastian Bach who said, "Without my morning coffee I'm just like a dried up piece of roast goat."
Soul Food — How do our history, politics, and social traditions define the foods we eat today? How can we use our understanding of the historic and contemporary delivery of food to the table to ensure resources for future generations? Foodies, farmers, educators and advocates will explore these and more "farm to table" and sustainability questions during a community discussion of "Soul Food: A Contemporary and Historical Exploration of New South Food" on Thursday, October 2 at UNC Charlotte Center City, 320 E. Ninth St.
This is the fourth and final event in the yearlong "Soul Food" series presented by UNC Charlotte's Center for the Study of the New South, which is part of the College of Liberal Arts & Sciences. The day opens with back-to-back panel discussions at 9:30 a.m. and 11 a.m. and culminates with a 6 p.m. talk by James Beard Award winner Adrian Miller, author of "SOUL FOOD: The Surprising Story of American Cuisine, One Plate at a Time." A reception sponsored by Chartwells UNC Charlotte and a book signing follow Miller's talk.
Kudos— As you know, I like to use my Monday Missives to share news about recent accomplishments by members of our department. Here is the latest news:
Sarah Minslow spoke on a panel about Banned Books Week on Wednesday in the Halton Reading Room as part of the EGSA and CGLO's Banned Books Week celebration. She also lead a roundtable discussion about censorship at the South Country Regional Library on Saturday.
Upcoming Events and Deadlines— Here are some dates to keep in mind:
October 2 — Shakespeare in Action is co-sponsoring a lecture by Richard Preiss on early modern clowning and comic performance in Robinson 103 at 4:00 pm.
October 6-7 — Fall break—no classes.
October 10 — The deadline to post mid-term unsatisfactory grades is noon on Friday, October 10th, and you must complete the process even if you have no unsatisfactory grades to report. Grades due by noon.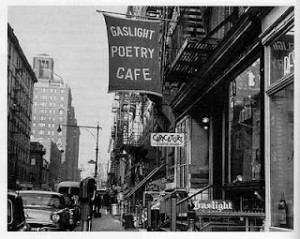 Quirky Quiz Question — One of the most famous coffee shops where the Beat writers gathered was the Gaslight Café. In the early 1960s, a young folk singer performed at the Gaslight. Many years later a recording of this performance was released under the title of Live at the Gaslight 1962. A few years ago this singer also performed at UNCCharlotte. Can you guess the name of this singer?
Last week's answer – Scotland