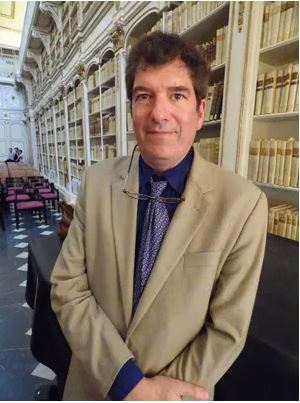 In the lobby of UNC Charlotte's English Department stands a handsome display case full of books written by members of the department. Most of the books on display are by current faculty, but the display case also includes a selection of books by former faculty members, including Robin Hemley's first novel, The Last Studebaker, which came out in 1992. Robin served as a creative writing professor at UNC Charlotte from 1987 to 1994. In the years since he left Charlotte, Robin has taught at universities all over the world, including a six-year stint as the director of the Writing Program at Yale-NUS in Singapore. He is now the director of the George Polk School of Communications at Long Island University (LIU) as well as the co-director of LIU's MFA in Creative Writing and Publishing. For more information about Robin's career, please click on the following link: https://robinhemley.com/
I am pleased to report that Robin is returning to Charlotte this week to talk about his latest book. Robin will join Judy Goldman in an in-person event at Park Road Books (4139 Park Road) on Sunday, June 5, from 1:00 pm to 2:00 pm. During this event, Robin will discuss his novel Oblivion: An After Autobiography, and Judy will talk about her new memoir titled Child (which I wrote about in my Storied Charlotte blog a few weeks ago).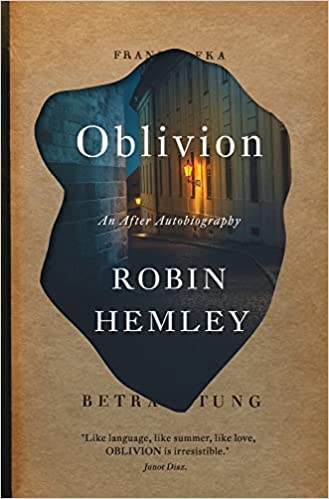 Oblivion is Robin's first paranormal novel. It's a ghost story of sorts, but at its core, it is a story about the interior life of a writer. In discussing the book, Junot Diaz (a winner of the Pulitzer Prize for Fiction) writes, "A mesmerizing meditation on immortality, both the literary and fleshly kinds, and its ultimate unattainability… like language, like summer, like love, Oblivion is irresistible." I contacted Robin and asked him for more information about Oblivion, and here is what he sent to me:
Where do writers go when they die? The forgotten ones, at least, go to The Cafe of Minor Authors where they drink endless cups of cappuccino, self-obsess, and nurse their shattered dreams. Some authors, it's rumored, can escape Oblivion if they try hard enough to write something the universe can't ignore, even after death. This is the story of one ambitious writer stuck in oblivion who not only risks upturning his own fate but also the fate of his literary hero, and that of his great grandmother, Hanna, an aspiring actor in the Yiddish theater in the Prague of 1911. This book is for anyone who has ever wanted to be an author, anyone who knows an author, anyone who is an author, recognized or not, and anyone who loves books enough to want to spend their afterlife reading forgotten classics in the great library of Oblivion.
Oblivion is a story that sprang from a combination of my family history, the ups and downs of being a writer, and my love for the writer Franz Kafka, who had his own struggles with family and writing. I consider it perhaps my best book, and my writer friends seem to agree. I also was able to give full play to my sense of humor as well as my more philosophical side about "immortality" and the common drive to make our marks.
I have remained in touch with Robin since he left Charlotte, and I know that he has fond memories of his Charlotte years. I asked him for his thoughts about returning to Charlotte for the event at Park Road Books, and he sent me the following reflection:
Charlotte is near and dear to my heart. I taught at UNC Charlotte for seven years from the late 1980s to the mid-90s, my first full-time academic job. One thing I have long loved about Charlotte and North Carolina as a whole is that it's one of the few places in the country where writers are really respected. Literature is such an integral part of Charlotte, and that's something that can't be said universally. I believe I was an integral part of the literary scene there and made many friends in the literary community in Charlotte and across North Carolina. Some of my friends still reside in Charlotte and I'm excited to see them – Mark West and Judy Goldman (who is joining me for our joint book event) among the people I'm so looking forward to see again. But there are many others, too many to mention, here, whom I hope will show up. I might not recognize them at first and vice-versa. But it would be great to reconnect.
I plan to attend Robin and Judy's joint book event on June 5, and I am looking forward to reconnecting with Robin and hearing about his latest book. Robin truly is a world traveler, but he will always have a place in Storied Charlotte, and he will always be my friend wherever he goes.