Celebrating Shakespeare — No one knows for certain the exact date of William Shakespeare's birth, but parish records indicate that he was baptized on April 26, 1564. Many historians and biographers believe that he was likely born on April 23. By coincidence, he died on April 23, 1616. Thus, next year will mark the 400th anniversary of his death. In commemorating these important dates, we celebrate not only Shakespeare's legacy, but we also celebrate the Shakespeare's unparalleled contribution to literature, theater, and the humanities in general.
The study of Shakespeare's plays has a long and rich history in our English Department. In the early days of the University, Roy Moose helped build the foundation for Shakespeare studies in the department. In recognition of his excellent teaching, he received the North Carolina National Bank Teaching Award (the forerunner to the Bank of America Teaching Award) in 1969. In subsequent years, a number of other English professors have taught Shakespeare courses, including Ann Carver, John McNair, Esther Richey, and Dennis Kay. Today, our Shakespeare courses are taught by Andrew Hartley, Kirk Melnikoff, and Jen Munroe as well as by Sonya Brockman, one of our excellent part-time faculty members.
In addition to offering courses on Shakespeare's plays, several of our faculty members organize university and community events related to Shakespeare. For example, Kirk recently took a group of our students to the American Shakespeare Center in Staunton, Virginia, where they saw Hamlet and Much Ado about Nothing. Much of this work is tied to the the Shakespeare in Action (SIA) Initiative, which Andrew, Kirk and Jen founded and run. Next year SIA will sponsor seven events, including a production of Hamlet.
Our faculty also publish books and articles related to Shakespeare's plays and give presentations on this topic. Here are just a few recent examples. In 2014 Andrew published Hamlet, a Novel (co-authored with David Hewson). Kirk has just received an invitation to serve as the keynote speaker at the University of South Carolina next year at an event focused on the First Folio. Jen just gave a talk last week titled "King Lear and Environmental Justice." This talk is related to her forthcoming monograph titled Shakespeare and Ecofeminist Theory (co-authored with Rebecca Laroche).
Although Shakespeare died nearly 400 years ago, his work lives on around the world and right here in our English Department. Happy belated birthday, William Shakespeare.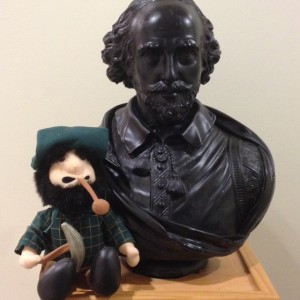 Kudos— As you know, I like to use my Monday Missives to share news about recent accomplishments by members of our department. Here is the latest news:
Jessica Morton, one of our graduate students, recently received Outstanding Graduate Teaching Assistant Award offered by the Graduate School. She has been remarkably active in both EGSA and CLGO. She has a chapter titled "Lover, Son, Brother, Batman: The Homosocial Evolution of (the) Robin(s)" forthcoming in a collection of essays.
Lara Vetter's edition of H.D.'s By Avon River was reviewed in this week's Time's Literary Supplement.
Upcoming Events and Deadlines— Here are some dates to keep in mind:
April 28 — On Tuesday evening, April 28th, at 6:30 pm here in the foyer of Fretwell, we will host an Exhibition of Work for students with interests in Technical/Professional Writing or Language and Digital Technology. Professional writers and editors from the Charlotte Chapter of the Society for Technical Communication will be joining us to talk with students about their work. All students and faculty are welcome. Light refreshments will be provided.
April 29 — The English Department meeting will be on Wednesday, April 29 at 11:00am in Atkins 127.
April 29 — The English Department Student Awards Ceremony will be held on Wednesday, April 29 at 12:30 in the Dale Halton Room of the University Library.
Quirky Quiz Question — The audio version of Andrew Hartley's Hamlet, a Novel features the voice of a famous actor. Does anybody know the name of this actor?
Last week's answer: Gaylord Nelson