Supporting the National Endowment for the Humanities
— From
March 11-13
Jeffrey Leak attended the annual conference for the National Humanities Alliance with a delegation from public and private colleges and universities across North Carolina.  During this conference, the delegates heard many presentations about the President's proposed budget and its harmful impact on the NEH and affiliated programs throughout the country.  However, Jeffrey reports that there is support for the humanities in both parties. On the second day of the the conference members of the delegation met with North Carolina members serving in Congress.
In an email Jeffrey sent to me about this experience, he shared with me a line from the keynote address delivered by the former president of the American Academy of Sciences:  "More than anything else, we–scientists, humanists and everyone else–need to make the case for intellectual inquiry in the form of stories. Narrative, not reports, is what will resonate with politicians and people who have no idea about the importance of the NEH. Don't tell people why the NEH is important. Show them."
Ho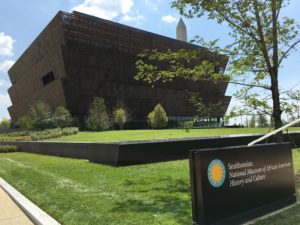 nors Students on the Road — This semester Janaka Lewis is teaching English 4750 Honors Seminar: Black Feminist Archives.  She recently sent me the following news about two student trips related to this seminar:  "Over Spring Break, three students (Brittney Elder, Rozie Khasmanian, and Sara Eudy) and I traveled to Washington, DC, to tour the new National Museum of African American History and Culture.  There is a wealth of historical and cultural material in the huge (and beautiful) building, and we were particularly interested in the exhibits on Black women writers from North Carolina (including Harriet Jacobs and Elizabeth Keckley) and collections donated by UNC Charlotte faculty emeriti Dr. Bertha Maxwell-Roddey and Dr. Herman Thomas from the early days of the National Council of Black Studies.  Last week, four students from the same class and senior Honors cohort (Jenna Hainlen, Chelsea Moore, Maria Lignos,and Sara Eudy) traveled with me to Atlanta for a panel on Collaborative Feminisms at the Southeastern Women's Studies Association and to conduct research in the Alice Walker Papers at Emory University.  We were also treated to a personal tour and workshop at the Atlanta University Center's Woodruff Library, where they pulled material on black women's literary societies just for us."
Kudos
 — As you know, I like to use my Monday Missives to share news about recent accomplishments by members of our department.  Here is the latest news:
Jessica Dionne, a student in our M.A. program, presented a paper entitled "Nostalgia and Freedom: The Representation of Road Culture in Lana Del Rey's 'Born to Die'" on February 18 and read three of her poems on February 17, at the Southwest Popular/American Culture Association in Albuquerque, NM. 
Liz Miller recently presented at the American Association of Applied Linguistics conference in Portland, Oregon. The titles of her talks are "Language teacher identity and ethical self-formation: A transdisciplinary account" and "Applied Linguistics at Work: Exploring Language Practices, Emergent Ideologies, and their Implications for Social Sustainability Advocacy."
Joan Mullin recently published the following two articles: "Occupying Research–Again/Still" with Jenn Fishman. In Horner, Bruce, Brice Nordquist, Susan M. Ryan. Economies of Writing: Revaluations in Rhetoric and Composition.  Logan: Utah State University Press; and "Silent Subversion, Quiet Competence and Patient Persistence" with Carol Lind. In Kahn, Seth, William B. Lalicker, & Amy Lynch-Biniek. Contingency, Exploitation, and Solidarity: Labor and Action in English Composition. Fort Collins, Colorado: The WAC Clearinghouse and University Press of Colorado.

Quirky Quiz Question — The National Endowment for the Humanities was signed into law in 1965.  Can you name the president who signed this legislation?
Last week's answer: Borders
Paula Martinac's new novel is published by Bywater Books in Ann Arbor, Michigan.  In addition to being the home of Bywater Books, Ann Arbor was home to famous chain of bookstores that once rivaled Barnes and Nobel.  What is the name of this now defunct bookstore chain?