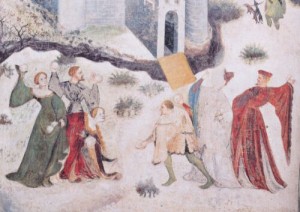 Snow Days — Snow days are not like other days, at least around here.  On snow days, our normal schedules and day-to-day expectations suddenly desist, and in their place a repressed desire to play often surfaces.  This impulse to play in the snow is usually associated with children, and many children's books deal with this theme.  One of my favorites is Snowy Day by Ezra Jack Keats.  In this Caldecott-winning picture book, an inner-city boy has a variety of snowy adventures in New York City.  However, it's not just children who have an impulse to play in the snow.  There are a number of classical European paintings from pre-industrial times in which adults are depicted throwing snowballs and having fun in the snow.
For me, this past weekend was all about playing in the snow.  I woke up on Friday morning to the news that the university was closed on account of the winter storm.  The day began with an invitation to play.  The invitation came from Maggie, our old golden retriever.  She dashed off into our snow-covered backyard, and she kept lo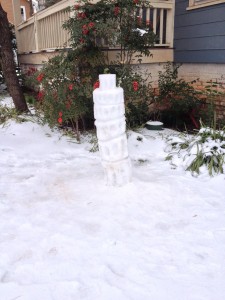 oking at me as if to say, "Come on.  Let's romp in the snow."  I soon joined her, and she ran around in circles and thrashed in the snow and acted like she was a puppy instead of the eleven-year-old dog that she actually is.  As the day progressed, neighborhood kids and their parents started sliding down the hill in front of our house.  On Saturday, I joined in on the fun and built a snow sculpture version of the Leaning Tower of Pisa.  Several kids and other passersby stopped to check on my progress and offer words of encouragement.  My weekend ended by watching Cam Newton skip and cavort on the football field.  While I am not a big football fan, I love watching Newton's joyful approach to playing his sport.
This past weekend reminded me of Johan Huizinga's book Homo Ludens:  A Study of the Play-Element in Culture, which I read in graduate school.  As Huizinga argues, humans have a deep-seated impulse to play.  In our work-centered culture, this impulse is often repressed, but it is still part of who we are, or to misquote Shakespeare, the play's the thing.
Upcoming Events and Deadlines— Here is a date to keep in mind:
January 29
— The (rescheduled) English Department meeting will take place on January 29, 2016, from
11:00
–
12:30
in the English Department Conference Room.
Quirky Quiz Question — Shakespeare once wrote the following line: "The play's the thing."  Can you name the work by Shakespeare in which this line appears?
Last week's answer: 
The Gilded Age  Mark Twain and Charles Dudley Warner
Yesterday  John Lennon and Paul McCartney
The Madwoman in the Attic  Susan Gubar and Sandra Gilbert
Lyrical Ballads  William Wordsworth and Samuel Coleridge
Will You Still Love Me Tomorrow  Carole King and Gerry Goffin
Our culture is replete with famous examples of collaborative works.  Listed below are five such works along with a list a famous collaborators.  See if you can match each work to the collaborators who created it:
The Gilded Age 
Yesterday

The Madwoman in the Attic

Lyrical Ballads

Will You Still Love Me Tomorrow

William Wordsworth and Samuel Coleridge
Susan Gubar and Sandra Gilbert
Carole King and Gerry Goffin
Mark Twain and Charles Dudley Warner
John Lennon and Paul McCartney