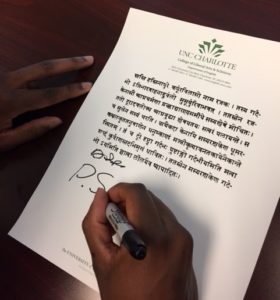 Postscripts — My wife always reads my Monday Missives, and she mentioned to me that last week's Monday Missive read like it was my last Monday Missive of the Fall 2016 semester. However, the word "missive" is an old-fashioned word for "letter," and old-fashioned letters often included postscripts, so I decided to close out the semester with a few postscripts.
Commencement Report — Last Saturday the College of Liberal Arts and Sciences held its winter commencement ceremony, and for 82 of our students, this ceremony marked their transition from current students to graduates. A total of 11 of our graduate students are listed in the commencement program, and 71 undergraduate students are listed.
I was especially impressed with how many of our BA students fall under the heading of "Graduation with Distinction." Of the 71 students, 7 earned the distinction of Cum Laude (GPA between 3.4-3.7), 4 earned the distinction of Magna Cum Laude (GPA between 3.7-3.9), and 3 earned the distinction of Summa Cum Laude (GPA between 3.9-4.0). This total comes to 14 students. I am very proud of all of our graduating students, but I want to mention by name the 3 students who earned the distinction of Summa Cum Laude. Their names are Megan Renee Bonds, Jasmin Marie Gonzalez Caban, and Kevin F. Wetherall.
Jen Munroe's News — Sometimes good things come in threes, and this seems to be the case with Jen. Three exciting opportunities recently came her way. Jen (with Hillary Nunn from U of Akron and Amy Tigner from UT Arlington) will be teaching a summer course next May titled, "Making Manuscripts Digital." This course will be part of the DH@Guelph Summer Workshops at the University of Guelph. Their participation is supported with an honorarium and expenses paid. Jen will also be an invited participant in the Folger Institute program, "Early Modern Manuscripts Online: New Directions in Teaching and Research," May 17-18, 2017. She has been asked to present during a round table titled, "EMMO Pedagogical and Research Community." That participation is also expenses paid. And finally, Jen has been asked to contribute a chapter to a forthcoming essay collection co-edited by Hillary Eklund and Wendy Beth Hyman titled, Shakespeare and the Pedagogies of Justice. Her chapter will take up the question of teaching environmental justice and early modern texts.
Kudos — As you know, I like to use my Monday Missives to share news about recent accomplishments by members of our department. Here is the latest news:

Bryn Chancellor's forthcoming novel, Sycamore (Harper, May 9, 2017), was chosen for Publisher Weekly's spring 2017 preview, which selects the top 50 books in varied categories "to predict which books will stand out in the early months of 2017—which will make it to the top, in terms of attention, sales, and awards and prizes." Chancellor's is included in literary fiction. http://www.publishersweekly.com/pw/by-topic/new-titles/adult-announcements/article/72259-spring-2017-announcements-literary-fiction.html
Jeffrey Leak has accepted an invitation from Malin Pereira to serve as faculty fellow for the new Martin Scholars Program.
Upcoming Events and Deadlines— Here is information about an upcoming event.
January 9 – The first day of classes for the Spring 2017 semester is January 9.
Quirky Quiz Question — In thinking about the term "missive," I am reminded that some novels are told through a series of letters (or missives). What is the term that is generally used for such novels?
Last week's answer: Al Maisto
Malin Pereira is the current Executive Director of the Honors College. Does anybody remember who ran the Honors College before Malin?