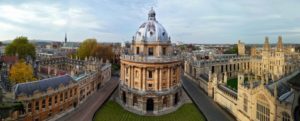 Oxford Connections — I received an invitation to speak next week at Oxford University.  I will be delivering a paper titled "The Concept of Infant Depravity and Its Role in the Birth of Didactic Children's Literature in Puritan America."  This talk will be my first academic presentation at Oxford University, although I have been there twice before.  I even wrote about Lewis Carroll's connections to Oxford University in my book A Children's Literature Tour of Great Britain.  
In preparing for this presentation, I started thinking about the English Department's connections to Oxford University.  Many of our faculty members, both past and present, have Oxford connections, but in three cases these connections are especially significant.  When UNC Charlotte became a university in 1965, one of the founding members of the English Department was Roy Clifton Moose.  Roy received a B.A. in English and an M.A. in Renaissance Literature from Oxford University.  For many years, Roy taught courses on Shakespeare in the English Department.  Dennis Kay, the first Robinson Distinguished Chair in Shakespeare, was also connected to Oxford University.  He taught at Oxford for many years before he joined our English Department in 1995.  Among our current faculty members, Maya Socolovsky has the most significant Oxford connections.  She received both her M.Phil. and her D.Phil. in English from Oxford University.   As these examples demonstrate, our English Department, although an ocean away from Oxford, has longstanding ties to Oxford University.
Kudos— As you know, I like to use my Monday Missives to share news about recent accomplishments by members of our department.  Here is the latest news:
Balaka Basu recently presented a paper titled "'Before I'll not be wanting visitors for a while': The Social Consequences of Pregnancy in the works of L.M. Montgomery" in a plenary session at the L.M. Montgomery Institute's 12th Biennial Conference, "L.M. Montgomery and Gender," at the University of Prince Edward Island.
Kirk Melnikoff has agreed to edit The Tragical Reign of Selimus for Queen's Men Editions. His scholarly edition will be published in 2018 or 2019.
Alan Rauch recently presented a paper titled "The Intentions of the Image:  Illustrations, Transtextuality, and Ideology in Nineteenth-Century Texts for Children" at the annual meeting of the Society for the History of Authorship, Reading, and Publishing.  The meeting took place in Paris.
Quirky Quiz Question —  The novelist Dorothy L. Sayers is one of the first women to earn a degree from Oxford University.  In her novel Gaudy Night, Sayers calls the Oxford college that she attended Shrewsbury College, but this is a fictional name.  Does anybody know the real name of the college within Oxford University that Sayers attended?
Last week's answer: Cambridge
Sir Isaac Newton was not an early member of the English Department, but he was a professor.  Does anybody know the name of the university where Newton taught mathematics?