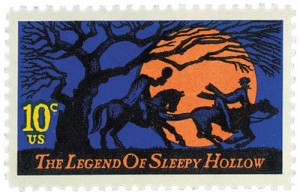 Happy Halloween — Halloween is nearly upon us.  Halloween always reminds me of Washington Irving's short story "The Legend of Sleepy Hollow," featuring Ichabod Crane and the Headless Horseman.  Originally published in 1820, this story not only captures the spirit of Halloween, but it also underscores for me the fuzzy boundaries of the various divisions often associated with the study of literature.  It exists on the threshold between realism and fantasy.  The reader is left asking: was Ichabod Crane really being chased by the Headless Horseman, or was he just imagining the whole scene? It was written by an American writer, but while Irving was living in England.   Like many of Irving's stories, "The Legend of Sleepy Hollow" attracted a tremendous following among British readers as well as among American readers.  The story's readership also crosses the boundaries between children and adults.  Although not published for children, the story has long appealed to many children and teenagers.  Similarly, the story also straddles the border between folklore and literary fiction.   Irving drew heavily on German ghost stories, but he made the story his own.   Finally,"The Legend of Sleepy Hollow" has long transcended the medium of the printed page.  There have been numerous films and television programs based on the story, including the current television series titled Sleepy Hollow.   In many ways, "The Legend of Sleepy Hollow" really is a tricky treat.
Kudos— As you know, I like to use my Monday Missives to share news about recent accomplishments by members of our department.  Here is the latest news:
Pilar Blitvich co-edited a special issue of the Journal of Pragmatics on the pragmatics of textual participation in the social media. This issue includes an article she co-authored titled "Conflict Management in Massive Polylogues: A Case Study from YouTube."
Boyd Davis recently published a co-authored article titled "E-Mobile Support for Community-Based Dementia Caregivers:  A Proof of Concept Phase" in Gerontechnology.  She presented a version of this paper at the International Society for Gerontechnology Conference, which took place in Taipei.  She also received a VA Merit grant to support her research on e-mobile support for dementia caregivers.
Ron Lunsford will lead a seminar for the Charlotte Teachers Institute next year.  His seminar is titled "Origins of Human Language."  Ron has been a member of CTI's Executive Committee of the University Advisory Council since 2008.
Jen Munroe recently published a co-authored article titled "On a Bank of Rue: Or Material Ecofeminist Inquiry and the Garden of Richard II" in Shakespeare Studies.
Malin Pereira recently gave the opening keynote on the poetry of Wanda Coleman and Natasha Tretheway at the Polish Association of American Studies conference in Poland. She read a paper on Brenda Marie Osbey's essays on September 25th at the Furious Flower Black Poetry conference (held every ten years).  She also gave a presentation titled "Redesigning Honors Education at UNC Charlotte" (with Janet Levy and John Szmer) at the North Carolina Honors Association Conference at Mount Olive University on September 20th.
Bonnie Shishko recently presented a paper titled "The Mysteries in Our Own Kitchens: Secrecy and the Form of Late-Victorian Cookbooks" at the Annual Meeting of the Victorians Institute.
Upcoming Events and Deadlines— Here is a date to keep in mind:
October 28 — Tomorrow night, Tuesday, October 28, the department  will host a joint meeting with the Society for Technical Communication- Charlotte Chapter at 6:30 pm in Fretwell 290B (our Seminar room).  One of our own graduates, Charlie Gaddy, will be speaking about his career trajectory from technical writer to program manager for mHealth at Carolinas HealthCare System. All interested students and faculty are welcome.
Quirky Quiz Question — In addition to writing "The Legend of Sleepy Hollow," Washington Irving also wrote a famous short story that involves time travel.  What is the title of this story?
Last Quirky Quiz answer – The Sport of the Gods