The Terrific Trio
— At the English Department meeting that took place last week, Monica Alston, Jennie Mussington, and Angie Williams provided everyone with a smorgasbord of delicious goodies that they prepared themselves.  This very pleasant surprise is but one of many examples of our staff going the extra mile to make our department such a pleasant work environment.   As I said at the beginning of the meeting, we are all fortunate to have such a dedicated staff.  Other departments have a great deal of turn over among their staff, but all three of our staff members have worked in the department for many years.  In appreciation of our staff, I have come up with a list of nine facts you might not know about our staff: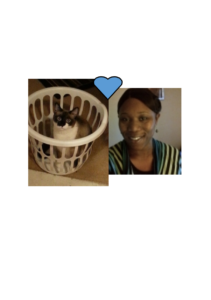 1. Monica grew up on a farm outside of Chapel Hill with her father and three siblings.  They raised pigs, chickens, and grew corn.
2. Monica started working for the UNC system in 1998.  She worked in UNC Chapel Hill's Undergraduate Admissions Office for a number of years before she joined our English Department in 2005.
3. Monica has a loyal cat named Lucy who wakes Monica up every morning.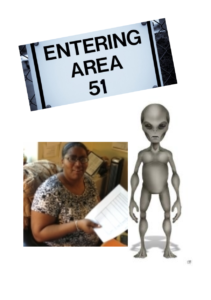 4. Jennie was born in Roswell, New Mexico (often called Area 51).  Her father served in the Air Force, and he was stationed at the Air Force Base in Roswell.
5. Jennie graduated from Arizona State University with a degree in business administration.
6. Jennie joined the English Department in 2000.  Before joining our department, she worked for several years in the Mecklenburg County Tax Collection Office.
7. Angie grew up in the small town of Montgomery, West Virginia.  This mountain town is located beside the Kanawha River in a picturesque valley.  She gradu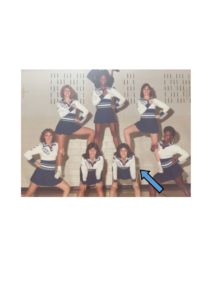 ated from Valley High School where she was a star cheerleader.  When all of the cheerleaders stood on top of each other to form a triangle, Angie always held everybody up, a role she still plays today.
8. Angie joined UNC Charlotte in 1986.  She started her career in the Department of Languages and Culture Studies and then transferred to the English Department in 2005.
9. Angie has worked with eight department chairs over the course of her career at UNC Charlotte.
Kudos— As you know, I like to use my Monday Missives to share news about recent accomplishments by members of our department.  Here is the latest news:
Boyd Davis guest edited a special issue of the Journal of Language Aggression and Conflict, which has just been published.  This special issue deals with dementia-compromised language conflict and aggression.  The issue includes Boyd's co-written article titled "The Silent Violence of Marginalization and Teasing in Dementia Care Residences."   Pilar Blitvich serves as a Co-Editor of the Journal of Language Aggression and Conflict.
Paula Martinac's short story "Daddy" has been accepted by the literary journal Minerva Rising and will appear in their next issue, which is due out at the end of the year.
Kirk Melnikoff
's monograph
Elizabethan Publishing and the Makings of Literary Culture
is now under contract for publication with The University of Toronto Press. It will be published in 2017.

Rebecca Roeder
and
Bryan Walden
(a graduate of our M.A. program in linguistics)
recently published an article titled "The Changing Face of Dixie: Spanish in the Linguistic Landscape of an Emergent Immigrant Community in the New South" in
Ampersand
.
Lara Vetter's monograph, A Curious Peril: H.D.'s Late Modernist Prose, is under contract with the University Press of Florida.
Upcoming Events and Deadlines— Here is information about an upcoming event:
The Women's and Gender Studies Program and the UNC Charlotte Counseling Center are co-sponsoring an event titled "Just Me and Allah:  A Queer Muslim Photo Project," featuring the work of Samra Habib.  Her presentation will take place on Wednesday, November 9, 2016 @7pm in McKnight Hall.  Here are some articles on Samra's work:
http://qz.com/594969/between-me-and-allah-the-conflict-between-homosexuality-and-islam/
Quirky Quiz Question — Monica, Jennie, and Angie are the three official English Department staff members, but there is a fourth unofficial member of the staff who resides in Angie's office.  Does anybody know the name of this unofficial member of the staff?
Last week's answer: Debbie Reynolds
The film Singin' in the Rain stars Gene Kelly and Donald O'Connor as the two leading male actors.  Who is the leading female star in the film?