We will not be switching over to 2024 calendars for several more months, but the good folks at North Carolina Humanities have already announced the plans for next year's North Carolina Reads program. This program is a statewide book club that meets virtually on a monthly basis. I contacted NC Humanities for more details about their North Carolina Reads program for 2024. They sent me an abundance of information, including the following official announcement, which I have condensed for the purposes of this week's blog post:
North Carolina Humanities' popular statewide book club program, North Carolina Reads, is back! Starting in February 2024, North Carolina Reads will feature five new books that explore issues of racial, social, and gender equity and the history and culture of North Carolina.
From February – June 2024, NC Humanities will host virtual monthly book club discussion events where participants will hear from guest speakers, including book authors and topic experts. Libraries, community groups, and individuals across North Carolina are encouraged to read along with NC Humanities, and then host their own local virtual and in-person community book discussion programs to accompany NC Humanities' virtual events.
Now in its third year, North Carolina Reads has already brought 23 professional, award-winning authors and topic experts to public audiences. All of the books selected for this year's book club are written by authors who are from, lived in, or currently reside in North Carolina.
Books, reading, literacy, and literary history are important parts of NC Humanities' mission. At the heart of North Carolina Reads is NC Humanities' desire to connect communities through shared reading experiences.
"After the isolation of the pandemic years, North Carolina Reads provides welcomed opportunities for connection across physical space," said Sherry Paula Watkins, Executive Director of NC Humanities. "Communities around the state and nation are divided over many issues, but North Carolina Reads leverages our collective love of story to create new shared experiences where people can engage with each other, and authors and experts who they may not otherwise be able to hear from."
NC Humanities' is pleased to announce the following titles for North Carolina Reads 2024:
February 2024 – Beyond Innocence: The Life Sentence of Darryl Hunt by Phoebe Zerwick.
Non-Fiction. A young Black man is falsely accused of murdering a white woman in Winston-Salem, North Carolina and is sentenced to life in prison, where he spent 19 years behind bars before his tireless attorneys were able to prove his innocence. Part true crime drama, part chronicle of a remarkable life cut short by systematic prejudice, Zerwick's narrative powerfully illuminates the sustained catastrophe faced by an innocent person in prison and the difficulty all formerly incarcerated people face when they try to restart their lives.
March 2024 – Poster Girls by Meredith Ritchie.
Historical Fiction. After an unwanted southern migration, an upside-down world in 1943 offers military wife and mother, Maggie Slone, a job at Charlotte's largest wartime employer––the massive and dangerous Shell Assembly Plant. Meanwhile, military wife and Alabama native, Kora Bell's steadfast determination enables her to navigate the challenges she faces as a Black woman seeking employment under Jim Crow. A shared love of literature spurs an unlikely friendship between Kora and Maggie, and the two work together to unify the plant's workforce.
April 2024 – American Refuge: True Stories of the Refugee Experience by Diya Abdo.
Non-Fiction. In this intimate and eye-opening book, Diya Abdo–daughter of refugees, U.S. immigrant, English professor, and activist—shares the stories of seven refugees. Coming from around the world, they're welcomed by Every Campus A Refuge (ECAR), an organization Diya founded to leverage existing resources at colleges to provide temporary shelter to refugee families. We learn that these refugees from Burma, Burundi, Iraq, Palestine, Syria, and Uganda lived in homes they loved, left against their will, moved to countries without access or rights, and were among the 1% of the "lucky" few to resettle after a long wait, almost certain never to return to the homes they never wanted to leave. We learn that anybody, at any time, can become a refugee.
May 2024 – The Violin Conspiracy by Brendan Slocumb.
Fiction. The riveting story of a young Black musician who discovers that his old family fiddle is actually a priceless Stradivarius: when it's stolen on the eve of the world's most prestigious classical music competition, he risks everything to get it back. Growing up Black in rural North Carolina, Ray McMillian's life is already mapped out. But Ray has a gift and a dream—he's determined to become a world-class professional violinist, and nothing will stand in his way. Not his mother, who wants him to stop making such a racket; not the fact that he can't afford a violin suitable to his talents; not even the racism inherent in the world of classical music.
June 2024 – Welcome to the Circus of Baseball by Ryan McGee.
Non-Fiction. A gloriously funny, nostalgic memoir of a popular ESPN reporter who, in the summer of 1994, was a fresh-out-of-college intern for a minor league baseball team. Madness and charm ensue as Ryan McGee spends the season steeped in sweat, fertilizer, nacho cheese sauce, and pure, unadulterated joy in North Carolina with the Asheville Tourists. He has since risen the ESPN ranks to national TV, radio, and Internet host, but his time in Asheville still looms large.
NC Humanities encourages readers to get a head start on their reading by checking with their local library or bookstore for assistance in finding book copies. Those who need accessible books may request books for free courtesy of the State Library of North Carolina Accessible Books & Library Services. Please read the eligibility requirements to see if you qualify for service. Please note, you do not have to read the books to participate in NC Humanities' North Carolina Reads virtual book club discussion events. Event details and online registration information will be available in winter 2024 at nchumanities.org.
To expand accessibility in underserved communities across North Carolina, next month, NC Humanities will offer a limited number of North Carolina Reads book boxes to readers. These boxes will include a selection of the five book titles, unique swag, bookmarks, and curated program and discussion guides. Details on how to request a book box will be released on October 16. Boxes will be available to request October 16-20 at nchumanities.org.
If you'd like to receive updates about North Carolina Reads, please sign up for your e-newsletters at nchumanities.org. Discussion guides and program planning guides will also be available for free download in winter 2024 at nchumanities.org.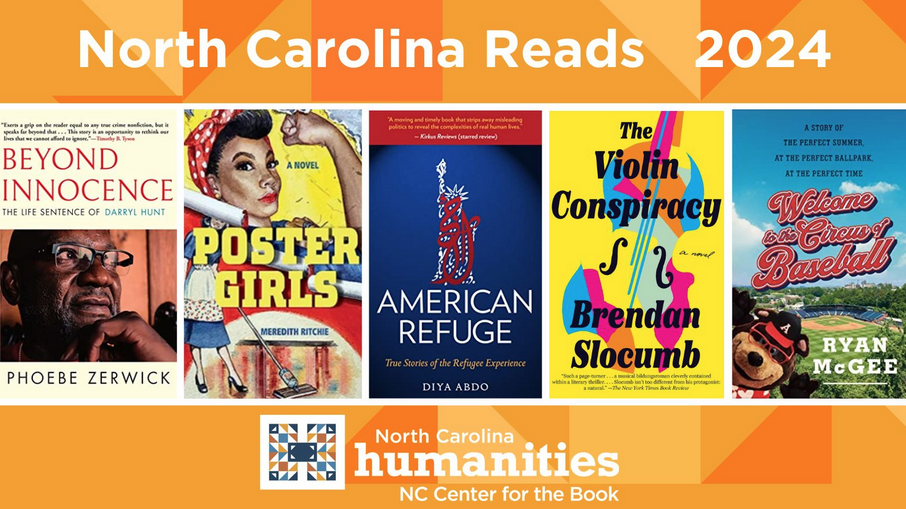 I thank North Carolina Humanities for organizing this program and for drawing attention to these five noteworthy books by North Carolina authors. I am especially pleased that Charlotte author Meredith Ritchie is included among the authors whose books are being featured. Meredith's Poster Girls is a remarkable historical novel that sheds light on the lives of women in Charlotte during World War II. As I often say, my Storied Charlotte blog is all about celebrating Charlotte's community of readers and writers, but as North Carolina Reads makes clear, Storied Charlotte is also a key player in the storied state of North Carolina.