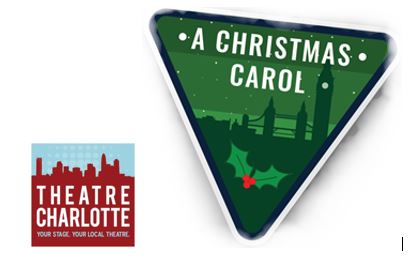 The holiday season is all about reconnecting with the stories that we associate with the holidays.  For Theatre Charlotte, this involves staging a production of Charles Dickens's A Christmas Carol.  Since 2006, Theatre Charlotte has brought Dickens's 1843 Christmas classic to the Queen City, and Theatre Charlotte is keeping this tradition alive.  Directed by Jill Bloede, this year's production stars Hank West as Ebenezer Scrooge.
There were some difficult logistical issues that needed to be addressed in order to make this production a reality. Theatre Charlotte's home auditorium was damaged by a fire on December 28, 2020, and the building is still in the process of being repaired. For this reason, Theatre Charlotte is staging all of the productions for its 94th season at various locations throughout the Charlotte area, which is why they are billing it as the Road Trip Season Tour. The production of A Christmas Carol will take place at The Halton Theatre at CPCC from December 16 through December 19. Of course, the pandemic also presents logistical problems, and Theatre Charlotte is responding to this concern by requiring proof of vaccination or a recent COVID-19 test in order to attend this production. For more information about Theatre Charlotte's production of A Christmas Carol, please click on the following link: https://www.simpletix.com/e/a-christmas-carol-tickets-75178
Theatre Charlotte's annual production of A Christmas Carol has a special meaning for me, for it evokes one of my favorite childhood memories. Throughout my childhood, my father read aloud to my brother, sister, and me every night after we finished our homework.  We had no television, so listening to Dad read was our main form of evening entertainment.  One of my father's favorite authors was Charles Dickens, and he read to us a number of Dickens's novels.  One Christmas Eve, he took Dickens's A Christmas Carol off the shelf and read it to us.  Mom didn't usually listen to Dad read aloud, but that night she joined us in the living room. The reading of A Christmas Carol became an annual ritual.  I still cherish the memory of our entire family sitting in the living room, gazing at our Christmas tree, and listening to Dad once again relate the story of Scrooge's reformation.
The sharing of stories is one of the reasons the holiday season resonates with meaning for so many people, and one such story of Charles Dickens's A Christmas Carol. By staging a production of this classic tale every December, Theatre Charlotte has added something special to Storied Charlotte's holiday traditions.