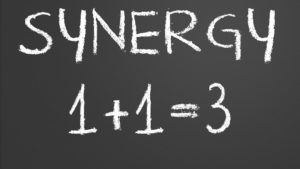 Synergy — There is something magical about synergy, for it defies the basic mathematical expectations associated with addition.  The dictionary defines synergy as the "interaction of two or more agents to produce a combined effect greater than the sum of their separate effects."   This type of synergistic magic happens on occasion in the English Department.  Two examples just took place this month.
Three members of the English Department recently traveled to Detroit to participate in the Association for the Study of Literature and the Environment Conference, which took place from June 20 to June 24.  Katie Hogan delivered a paper titled "Resisting the Urban/Rural Divide in Alison Bechdel's Fun Home."  Juan Meneses presented a paper titled "Shedding Light:  Environmental Destruction and the Politics of Visibility," and Matthew Rowney gave a presentation titled "'It ate the food it ne'er had eat': Plastic, the Albatross, and The Rime of the Ancient Mariner."  Their participation in this conference adds up to much more than three conference papers.  In a very real sense, their participation shows how the members of our department are working together to make ecostudies a core part of what we do in the English Department.
A few days after Katie, Juan and Matt headed north to Detroit, Sarah Minslow, Alan Rauch, Ralf Thiede, and I headed south to Tampa to participate in the Children's Literature Association Conference.  Sarah gave a presentation titled "Exploring Imagined Futures by Revisiting the Past:  Strategies of Time Travel in Children's and YA Holocaust Literature."  Alan gave a talk titled "Writing the Scientific Mother:  Understanding Women as the Source of Knowledge," and Ralf delivered a presentation titled "Baby Einstein to Baby Chomsky:  Neurocognitive Science and the Future of Early Children's Books."  Ralf and I were on the same panel.  Speaking immediately after Ralf, I gave a talk on "LeVar Burton's Leadership Role in Shaping the Future of Reading Rainbow."  These four presentations underscore the expansive and diverse nature of our children's literature program.  Sarah's presentation relates to Holocaust studies, Alan's relates to women's studies and the history of science, Ralf's relates to linguistics and cognitive studies, and my presentation relates to media studies.  The children's literature programs in many English departments are relegated to a small silo situated in a corner of the department, but our children's literature program has magically escaped the silo curse and in the process has become far more than the sum of its parts.
Needless to say, I am a true believer in the power of synergistic magic.
Kudos — As you know, I like to use my 

Monday

 

Missives

 to share news about recent accomplishments by members of our department.  Here is the latest news:

Nadia Clifton
, who received her M.A. in English in May and will begin an M.S. in Library Science at UNC Chapel Hill in August, has been selected as a 2017-2019 Association of Research Libraries (ARL)/Society of American Archivists (SAA) Mosaic Fellow. The benefits of the award include a tuition stipend, a paid internship at UNC's Wilson Special Collections Library, financial support to attend the SAA Annual Meeting and the 14th Annual ARL Leadership Symposium in 2018, and financial support for enrolling in digital archives specialist courses provided by the SAA.
Nancy Gutierrez, the Dean of our College of Liberal Arts and Sciences and a member of the English Department, recently published an essay titled "Storytelling and the Deanship" in From the Desk of the Dean:  The History and Future of Arts and Sciences Education,co-edited by Mary Anne Fitzpatrick and Elizabeth A. Say (University of South Carolina Press).
Thomas Simonson
, who recently received his B.A. with honors in English, was awarded a 2017 Phi Kappa Phi Fellowship.  He will use this fellowship as he begins his graduate studies at Wake Forest University this fall.
Quirky Quiz Question —   The Association for the Study of Literature and the Environment Conference was sponsored by the largest university located in Detroit.  Does anybody know the name of this university?
Last week's answer: Patty Jenkins
The new Wonder Woman movie is the first superhero movie to be directed by a woman.  Does anybody know the name of the woman who directed this film?