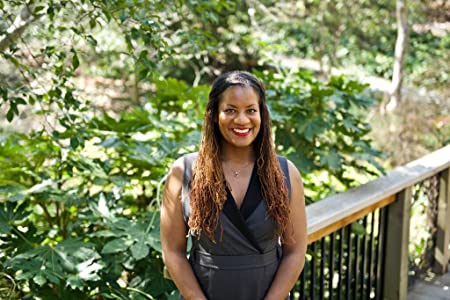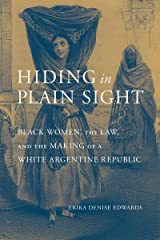 February is Black History Month, so it is fitting that Dr. Erika Denise Edwards will be talking about her award-winning book titled Hiding in Plain Sight:  Black Women, the Law, and the Making of a White Argentine Republic in February as part of UNC Charlotte's Personally Speaking Series.  Her virtual presentation/conversation will take place at 7 p.m., Tuesday, Feb. 8, 2022. This free virtual event is open to the public. Register to join the conversation.
Dr. Edwards is an Associate Professor in UNC Charlotte's History Department, where she has been teaching since 2012. An expert on the history of the Black experience in Argentina, she draws on this expertise in Hiding in Plain Sight, which the University of Alabama Press published in 2020. In discussing her book on the Women's History Network blog, Dr. Edwards wrote:
Set during the eighteenth and early nineteenth century, my book, Hiding in Plain Sight: Black Women, the Law and the Making of a White Argentine Republic, focuses on women … who took matters into their own hands and sought to better their lives and the lives of their children by escaping their blackness. By examining the household as the epicenter for this transformation my book intentionally makes black women, enslaved or free, the protagonists of the whitening. Moreover, the exploration of the household activities such as domestic chores, daily interactions, and raising children created various forms of intimacy and emotional attachments that created the spaces for African descended women to maneuver and transform into Spanish women in Argentina.
Known as a "white" country today, my book examines how African descended women contributed to the making of a white Argentina (1776-1840). It focuses on the city of Córdoba, in order to expand our understanding of race relations beyond Buenos Aires.  A contrast in many ways to Buenos Aires, Córdoba served as a good case study because of its small size. I was able to cross-reference various sources which detailed the lives of various African- descended women. …
At its core, this book is about resistance.  In general, rebellions and revolutions have encapsulated black resistance, but this book engages "everyday forms of resistance." African descended women adapted to the choices they were given, signifying that they did not passively rely on others to secure their social advancement. Instead, while remaining hidden in plain sight, they adapted not only to the rules of the household but also forged their own experiences.
For readers who are interested in learning more about Hiding in Plain Sight, the publisher has additional information on its website: http://www.uapress.ua.edu/product/Hiding-in-Plain-Sight,7299.aspx For readers who want to know more about Dr. Edwards, please click on the following link: https://www.erika-denise-edwards.com/
Through her work as a historian who specializes in Afro-Latin America, Dr. Edwards helps us better understand that Black history extends well beyond the borders of the United States. Her Hiding in Plain Sight adds an international dimension to the ever-expanding library of books that make up Storied Charlotte.