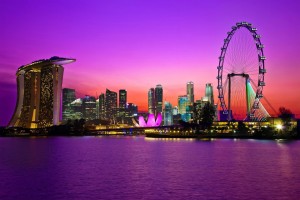 Singapore Bound — Singapore is one of the smallest nations in the world in terms of its physical size, but it looms large in my plans for spring break. Several months ago I received an invitation from a program jointly sponsored by Yale University and the National University of Singapore (YaleNUS College) to participate in an international symposium on censorship. Titled "What Children Shouldn't Read: A Global Controversy," the symposium will take place on March 3-4, although there will be related events before and after the official symposium.
I am by no means the only English Department faculty member who is engaged in projects that relate to global issues and themes. I could list at least a dozen examples, but I will limit myself to three. Pilar Blitvich's research on pragmatics is international in nature, and she regularly publishes in European linguistics journals. Juan Meneses's research on postcolonial literature transcends national boundaries. Alan Rauch is the series editor for Intersections in Literature and Science, a book series published by University of Wales Press. Every year, numerous members of our department present papers at international conferences or conduct research outside the United States. Nowadays UNC Charlotte is incorporating the theme of globalism in its educational and research mission, and the English Department is clearly a participant in this development. As Shakespeare once wrote, "All the world's a stage." The English Department is already a player on this very wide stage.
CLGO Colloquium — On February 20, the Children's Literature Graduate Organization sponsored an event titled "Mockingjays, Mirrors, and Mysterious Missions: A Colloquium on Dystopias, Distortions, and Other Worlds." Five graduate students presented papers at this event. Amanda Loeffert presented a paper titled "Fighting in Flats: How Kamala Khan is Revolutionizing the Female Superhero." Dina Massachi presented a paper titled "What Makes a Child's Utopia: Thomas More and L. Frank Baum." Hannah Mayfield gave a paper on "Katniss Everdeen and Her Band of Not So Merry Men: The Outlaw Hero's Journey from Myth to Dystopia," and Julia Morris delivered a paper titled "Battle on the Playground: A Discussion of War in Rowling's Harry Potter and the Order of the Phoenix." Richard Smith presented on "Weird Stones, Familiar Places: The Other World of Alan Garner's The Weirdstone of Brisingamen." The colloquium concluded with a faculty panel discussion featuring Balaka Basu, Paula Connolly, and Beth Gargano.
Kudos— As you know, I like to use my Monday Missives to share news about recent accomplishments by members of our department. Here is the latest news:
Boyd Davis co-edited with Dena Shenk a special issue of American Journal of Alzheimer's Disease & Other Dementias (February 2105). The theme of this special issue is "Technology and Dementia."
Allison Hutchcraft recently had four poems accepted for publication in the May 2015 issue of The Kenyon Review.
Upcoming Events and Deadlines— Here is a deadline to keep in mind:
February 27 — Mid-term grades are due by noon on Friday, February 27.
Quirky Quiz Question — Singapore is a city-state located on an island very near a much larger Asian country. What is the name of this larger Asian country?
Last week's answer: Samuel Taylor Coleridge