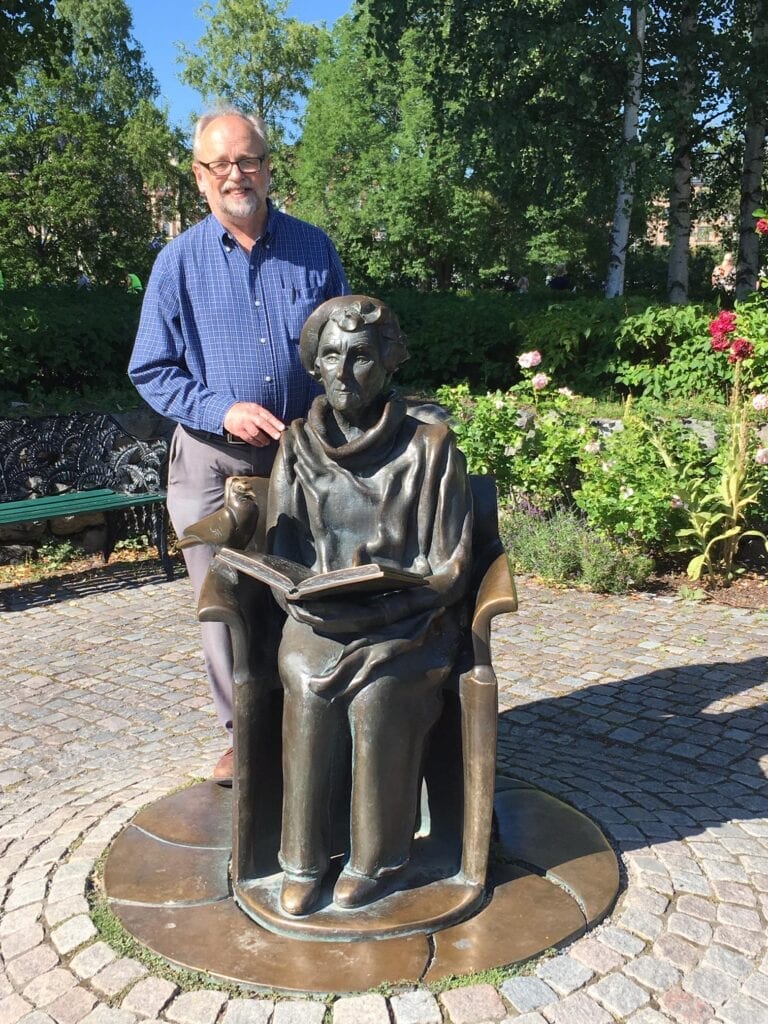 Making Connections through Literature — Last week my wife and I traveled to Stockholm so that I could research the connections between Swedish children's author Astrid Lindgren and Junibacken.  Promoted as a "children's cultural center with books at its heart," Junibacken combines the elements of an interactive children's museum, a children's theater, and a children's bookstore. Junibacken opened to the public in June 1996, and Lindgren attended the opening.  I knew before I took this trip that Lindgren played an important role in the creation of Junibacken, but I wanted to learn more about the details of Lindgren's involvement.  
For me, the high point of this trip was the time I spent interviewing Sanna Pedersen, who serves as the Manager of Public Operations at Junibacken.  We talked for three and a half hours about Lindgren's life, her children's books, and her participation in the design of Junibacken.   I had never met Sanna before this interview, but we found it easy to talk for hours since we both share an interest in Lindgren's contributions to the world of children's literature.  
As I walked back to the hotel after concluding my interview with Sanna, I thought about the role that literature can play in helping us make connections with other people.   When we share a familiarity with the same stories, we automatically have much to discuss.  In a sense, literature can provide us with a cultural common ground, and that certainly was the case in my interview with Sanna.  However, literature can play a similar role on a far larger scale.  In Sweden, Lindgren's children's stories are an important part of the national culture.  Nearly everyone in Sweden has read at least some of Lindgren's children's books.  This common literary experience has become one of the connecting points that brings Swedes together but not in an exclusive sort of way.  All one needs to do to join the conversation and become part of this aspect of Swedish culture is read some of Lindgren's children's books.  Such is the power and magic of literature.  
Kudos  — As you know, I like to use my Monday Missives to share news about recent accomplishments by members of the English Department.  Here is the latest news:
Allison Hutchcraft published a poem titled "So I Try to Picture the Priests" in the summer issue of Five Points..
Janaka Lewis recently presented a paper titled "Girlhood Remembrance in African American Literature" at the second MLA International Symposium in Lisbon.
Kirk Melnikoff signed a contract to contribute the chapter "Agents of Book Making: Publishers" to The Oxford Handbook of the Book in Early Modern England (Oxford University Press, 2021).
Upcoming Events and Deadlines — Here is information about upcoming events and deadlines:
August 12— Final grades for the second summer session courses are due by noon on Monday, August 12.
Quirky Quiz Question — Astrid Lindgren's most famous character is a girl named Pippi Longstocking.   Pippi has a pet named Mr. Nilsson.  What sort of animal is Mr. Nilsson?
Last week's answer: Australia
Sarah Minslow is a native of North Carolina, but she actually holds citizenship in two countries.  What is the name of the other country she is a citizen of in addition to being a citizen of the United States?