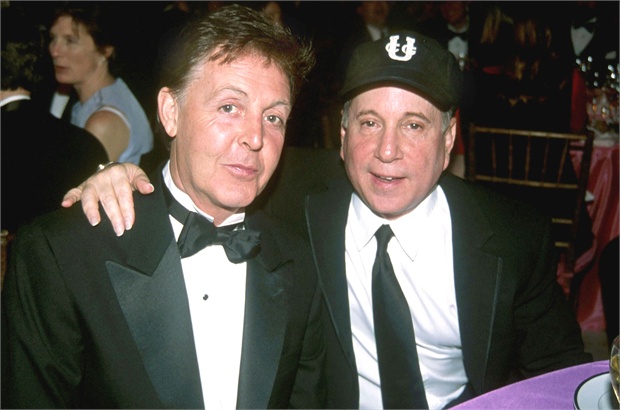 Two Pauls and a Song — I grew listening to rock 'n' roll on my portable radio, which I always kept tuned to one of Denver's rock stations.   I especially liked the Beatles and Simon and Garfunkel.  Using whatever money I could scrounge up, I diligently bought every record album that these groups released, and I still own most of them.  I  remember being distraught in 1970 when both the Beatles and Simon and Garfunkel disbanded.  
In the years that followed, I took an interest in the lives of the rock stars associated with these groups, and I was pleased to discover that Paul McCartney from the Beatles and Paul Simon from Simon and Garfunkel forged a friendship that persists to this very day. A special moment in their friendship occurred on October 13, 2005, which was the date of Simon's 64th birthday. McCartney called Simon and sang "When I'm Sixty-Four" to Simon over the phone.
McCartney wrote "When I'm Sixty-Four" when he was still a teenager, but the Beatles didn't release the song until 1967 when they included it on their album Sgt. Pepper's Lonely Hearts Club Band. The song has since taken on a life of its own. It has come to be seen as a celebration of enduring relationships. A friend of mine recently told me that during her wedding they played "When I'm Sixty-Four" as the recessional.
I am pleased that McCartney sang "When I'm Sixty-Four" to Simon on the occasion of Simon's 64th birthday, just as I am pleased that these two figures from my youth have maintained their friendship over the decades. Simon wrote a song titled "Old Friends," which Simon and Garfunkel released in 1968 when they included it on their album Bookends. McCartney and Simon have pursued separate musical careers, but they are old friends. On some abstract level, I feel like they are my old friends, too.
I think it is highly unlikely that McCartney will be reading this Monday Missive, but in case he does, I will be in the office all day if he wants to call and sing "When I'm Sixty-Four."
Memorial Day — Today is Memorial Day. Originally called Decoration Day, this holiday can be traced back to the years right after the Civil War when the families of fallen soldiers decorated the graves of their relatives who died during the war.
For most Americans, Memorial Day is a paid holiday, but not for the staff at UNC Charlotte.  If staff members want to stay home and observe Memorial Day, they need to deduct the hours from their vacation time.  I objected to this practice in the Monday Missive that I wrote three years ago at this time, and I still object to it.  For many staff members, Memorial Day has a deep, personal meaning.  UNC Charlotte got its start as an institution to educate veterans in the years right after World War Two, so it seems especially important to me that the university recognize the significance of this special day to veterans and their families by making it a paid holiday for the staff.
Kudos  — As you know, I like to use my Monday Missives to share news about recent accomplishments by members of the English Department.  Here is the latest news:
Allison Hutchcraft published a poem titled "Calenture" in Boulevard.
Kirk Melnikoff's chapter "Isabella Whitney amongst the Stalls of Richard Jones" has been accepted for publication in Women's Labor and The History of the Book in Early Modern England (Arden, 2019).
Quirky Quiz Question —  After the Beatles disbanded in 1970, Paul McCartney formed a new band with his first wife, Linda Eastman.  What is the name of this band?
Last week's answer: The Eagle
What is the name of the name of the Apollo lunar module that landed on the moon during the Apollo 11 mission?  Here is a hint:  Neil Armstrong said the name of the lunar module when he reported that they had safely landed.