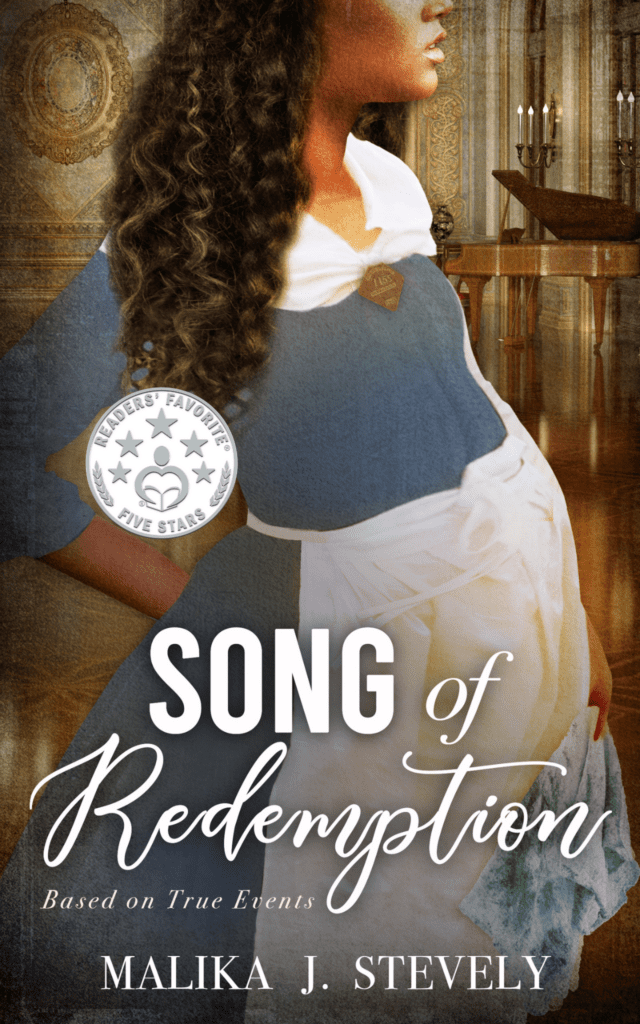 Charlotte author Malika J. Stevely recently published a work of historical fiction titled Song of Redemption.  It's her debut novel, but Malika is not a novice writer.  She has extensive experience as a journalist and communications specialist, and her background in journalism came into play when she set out to write this book. 
Most of the story takes place on a French and English-speaking plantation in Louisiana in the years just before the Civil War, but the opening chapter is set in 1932. In this chapter, a group of construction workers are fixing up an abandoned plantation mansion when they discover the body of a woman behind one of the walls. This event actually happened. When Malika heard about it, she became curious about the story of the woman whose body was discovered. After doing extensive investigative research, she decided to write a novel based on the life of this woman.
I contacted Malika and asked her for additional information about how she came to write Song of Redemption.  Here is what she sent to me:
Before serving my community as a newspaper reporter, a favorite pastime of mine was conducting interviews, specifically with seniors. It was, and is, an opportunity to absorb wisdom, and to see how issues within the world may have evolved or remained unresolved. Years ago, a senior family friend shared that her father was a crew member with a construction company in Louisiana in 1932. When he and his team were assigned to refurbish a mansion, he discovered the remains of an enslaved woman behind one of the walls. In addition to the story, the description of the sights and emotions felt decades after the Antebellum era were just a few things that stuck with me.
Usually with oral history, a story runs the risk of dying with the person who told it, unless it is shared with a multitude of people. I remember feeling a sense of responsibility to give the enslaved woman an identity and a voice. Often when we hear about those involved in tragedy, the person becomes defined by the incident. I wanted to humanize her as well as solve the mystery behind the oral history. This could only be done by researching and sharing her story as well as the experiences of other enslaved individuals whose names and accounts were silenced or never told. And in conjunction, it was imperative that there was a rich illustration of culture and languages in the book along with the perspectives of women, Blacks, Creoles and Creoles of color.
While Charlotte is my adopted home, I have ties to Louisiana and sprinkled a little of myself within the pages of the book. In addition to the reappearance of newspapers and advertising featured in the novel, music and medicine (modern and holistic slave remedies) were themes from my own life and lineage that served as inspiration, creating a literary symphony that transformed into Song of Redemption.
For more information about Malika, please click on the following link: https://www.malikajstevely.com/
Readers who would like to talk with Malika about Song of Redemption are in luck, for Malika is one of the featured authors at our next Charlotte Readers Book Club event.  For our third Charlotte Readers Book Club event, Charlotte Readers Podcast and Storied Charlotte are partnering with That's Novel Books at Hygge at Camp North End.  This event will take place at That's Novel Books, 330 Camp Road, on Wednesday, November 9, 2022, from 5:30 pm to 6:30 pm.  We will feature Malika's Song of Redemption and Pamela Grundy's recently published Legacy: Three Centuries of Black History in Charlotte, North Carolina. You are not required to have read the books to participate in our book club. This will be an open discussion with the authors. Here is the Eventbrite link:  https://www.eventbrite.com/e/charlotte-readers-bookclub-tickets-453351595827
I am looking forward to talking with Malika and Pamela at this upcoming Charlotte Readers Book Club event and learning more about their contributions to Storied Charlotte.