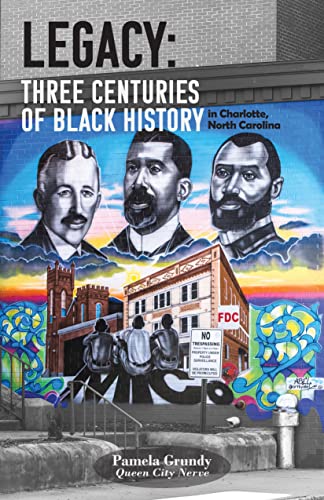 Community historian Pamela Grundy's latest book, Legacy: Three Centuries of Black History in Charlotte, North Carolina, has an official publication date of February 25, 2022. However, the book's origin story goes back to 2017 when the University of North Carolina Press published her earlier book titled Color and Character: West Charlotte High and the American Struggle over Educational Equality. At the time, Ryan Pitkin wrote for Charlotte's Creative Loafing, and he interviewed Pamela about Color and Character. Not long after he conducted this interview, Creative Loafing shut down, but Ryan and some of the other former staff members of Creative Loafing banded together and launched Queen City Nerve in 2019. In his role as Editor-in-Chief of Queen City Nerve, Ryan reconnected with Pamela, and she became one of Queen City Nerve's contributors.
Pamela wrote a seven-part series for Queen City Nerve on the Black history of Charlotte. The first installment of this series appeared in Queen City Nerve on July 31, 2020, and the series concluded in 2021. With some editorial assistance from Ryan, Pamela expanded this series into a book, and the result is Legacy: Three Centuries of Black History in Charlotte, North Carolina, which Queen City Nerve is publishing as a paperback and as an e-book. For more information about this book, please click on the following link: https://qcnerve.com/legacy/
In her Author's Note, Pamela writes, "I've drawn on sources that include census records, newspapers, family documents, photographs and oral history interviews to offer an overview of the lives, challenges, and accomplishments of the many generations of African Americans who have lived in the Charlotte area." https://qcnerve.com/legacy-black-history-in-charlotte/ Ryan adds, "Pamela's steadfast work has resulted in an engrossing, comprehensive look at Black History in Charlotte, and I have learned so much during this process that I can't wait to share with our readers." Since February is Black History Month, it is fitting that Legacy: Three Centuries of Black History in Charlotte, North Carolina will be officially published this month. This book provides readers with a concise overview of the history of Black culture in Charlotte.  As Pamela documents in her book, African Americans have played important roles in the history of Storied Charlotte from the origins of the city to the present day.