Coming and Going — Every summer I teach a graduate seminar called Children's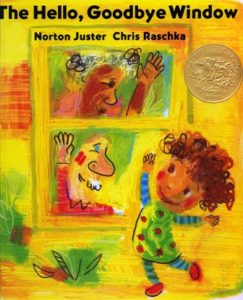 Literature Award Winners in which I cover the most recent winners of some of the big awards in the field of children's literature.  Because I teach this course, I am familiar with most of the picture books that have won the Caldecott Medal.  In 2006 the book that won this award was The Hello, Goodbye Window by Norton Juster and illustrated by Chris Raschka.  In this book, a young girl thinks of the kitchen window in her grandparents' house as a special gateway.  When she visits her grandparents, she first sees them through this window.  When she returns to her home, her grandparents wave goodbye to her through this same window.  I sometimes think that the door to my office is a bit like the kitchen window in this picture book.   Some people come through the door to say hello, and some come to say goodbye.
This week it is time to say "Hello" to Sarah Minslow and "Goodbye" to Sonya Brockman.  On August 1, Sarah officially becomes the English Department's first full-time, professional advisor.  Sarah has already served as a part-time advisor in the English Department, so she is well prepared to assume her new responsibilities.  I am so pleased that Sarah will be joining our English Department as full-time employee, and I know that our students will be in good hands when they are advised by Sarah.  At the same time that Sarah is arriving, Sonya Brockman is preparing to leave.  Sonya accepted a full-time teaching position starting this fall in the English Department at Adams State University in Alamosa, Colorado.  Sonya has been teaching for us as an adjunct faculty member since 2012.  However, her connections to our department go back even further.  She received her M.A. degree from our department in 2005.  I thank Sonya for her many contributions to our department, and I wish her all the best has she starts her new position in my home state of Colorado.
Quirky Quiz Question —   Norton Juster spent most of his career working as an architect, but he also enjoyed writing for children.  In addition to writing The Hello, Goodbye Window, he wrote one of the most famous American fantasy novels intended for children.  This novel came out in 1961.  Does anybody know the title of this classic novel?

Last week's answer: Somerville College
The novelist Dorothy L. Sayers is one of the first women to earn a degree from Oxford University. In her novel Gaudy Night, Sayers calls the Oxford college that she attended Shrewsbury College, but this is a fictional name. Does anybody know the real name of the college within Oxford University that Sayers attended?