It's no secret that Mark de Castrique is one of Charlotte's leading mystery writers.  A native of Hendersonville, North Carolina, Mark is the author of two popular mystery series in which he makes use of his familiarity with western North Carolina—the Barry Clayton Series and the Sam Blackman Series.  He has also written several standalone mysteries, including The 13th Target and The Singularity Race, both of which are set in Washington, DC.  At first glance, it might seem a bit mysterious that a Charlotte writer would use Washington, DC, as a setting.  However, earlier in his career, Mark worked as a broadcast and film producer in Washington, DC, so he knows his way around our nation's capital. 
Mark draws on his knowledge of the Washington, DC, area in his latest mystery, Secret Lives, which Poison Pen Press will release on October 11, 2022. Secret Lives is the first book in Mark's new Ethel Fiona Crestwater Series. The central character in Secret Lives is a 75-year-old retired FBI agent who runs a boardinghouse. For readers who want to know more about Secret Lives and Mark's other mysteries, please click on the following link: http://www.markdecastrique.com/
I recently contacted Mark and asked him how he came up with the character of Ethel Fiona Crestwater.  Here is what he sent to me: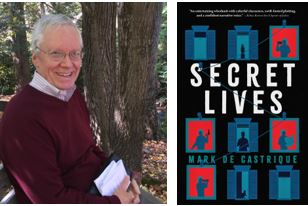 A few months before Covid struck, I was flying back to Charlotte from Phoenix. It was a long flight, and at one point I had a brief conversation with the young woman seated beside me. I asked her if she also lived in Charlotte. She said she was only connecting to a flight for Washington, DC. Since I have two daughters in the DC area, I asked if that was her home. She replied she was going to visit a great aunt who lived in the District. Then she added, "She's eighty-five-years old and lives in the house she was born in."
"Does any family live with her?" I asked.
"No," the woman replied. "No family, but we don't worry about her. She rents out rooms to FBI and Secret Service agents. There's always someone in the house with a gun."
There's always someone in the house with a gun. Music to a mystery writer's ears. My co-traveler had given me the outline of what could be an interesting character. But what to do with her?
An older friend in Charlotte had told me that as a 14-year-old high school student in DC, she would ride the bus to the FBI after school where she would classify and categorize fingerprints using cards and a magnifying glass. This was before computers. Her experience inspired me to make my character more than a landlady for agents; she would be one herself. She became a retired FBI agent who had spent her life in the Bureau and whose former borders included the heads of the FBI and Secret Service.
Her name is Ethel Fiona Crestwater, and she is a force to be reckoned with. I imagine her as Ruth Bader Ginsburg as an FBI agent. Feisty, brilliant, and protective of those she holds dear. So, when one of her boarders is murdered in front of her house, there's no stopping her pursuit of justice.
Thanks to a Charlotte connection and a chance encounter on a plane, Ethel debuts in Secret Lives on October 11th.
Secret Lives is not yet officially released, but it is already getting very strong reviews. The reviewer from Publishers Weekly praises the central character as "an elderly Nancy Drew: sure of herself and her convictions, and ready to bend a few rules to achieve her goal of seeing justice done. She's off to a fine start." The reviewer from Kirkus Reviews describes the book as "a taut and crisply told thriller whose charmingly shady protagonist triumphs."
Mark will be signing copies Secret Lives and talking about Ethel Fiona Crestwater at Park Road Books on Tuesday, October 18, 2022, at 7:00 pm. I plan to be there. Ethel Fiona Crestwater might be from the DC area, but I consider her an honorary member of Storied Charlotte.